typed for your pleasure on 20 January 2005, at 3.13 am
---
This Friday past, I finally watched the last two episodes of Zeta Gundam. Damn, that show is fucking fantastic and grim, all at the same time. It's beautiful.
Now, I'm the kind of bloke who has been happier with the anime industry standard that was more or less established during the mid-90s, where television series lasted for twenty-six episodes, as opposed to fifty-two, in order to drive the story along better due to there being less 'filler' episodes. (Also, I gather a largely significant reason for the shorter runs was due to a lot of studios not being able to afford long, drawn-out shows.) Zeta was made back in 1986, before the shorter series trend kicked in, and therefore runs 50 episodes. My worry with the series was that there were going to be a lot of throwaway epiodes that could've easily been omitted. I can think of maybe two off the top of my head; the rest of the series jets along at a rapid and suspenseful rate — 'mostly killer, little filler' if you will. And, as I'd known all these years between perusing the episode guides in Animag and actually watching the series a decade later, that yes, the ending of Zeta Gundam is even more messed up than I knew it to be. The Stark Fist of Tomino spares no-one.
Now, if you're curious about seeing the series, but aren't a rabid Zeta Gundam fanboy where you'd want to fork out $120+ for the box set, you can just wait a couple of years, as Bandai/Sunrise studios are doing what they did with the original Gundam series, and condensing 50 episodes into three feature-length films, with the first one premiering in March..
Also, Shi-chan & I cranked out another photo shoot! Can we be stopped??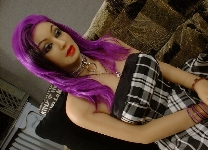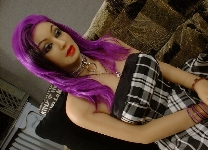 Well, apparently yes, it turns out we can be stopped. We wrapped it up after only 80 photos, cos with both the room radiator & the lights cooking us like an EZ-Bake Oven, it was far too hot to continue. (Plus, if Shi-chan learned to move herself, that would help tremendously…) We might pick up again with the same clothes at a later date, but I still need to get the pics from the previous shoot ready for posting. Deadlines? What the hell are those??
Aaand here's another stylishly retro-futuristic home for your approval: the famous Monsanto House of the Future, featured in Disneyland's Tomorrowland from 1957 to 1967.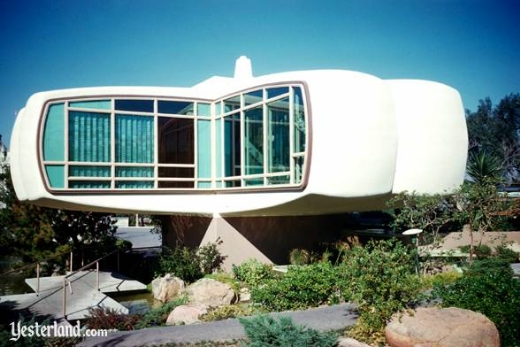 pic shamelessly stolen from Yesterland
Welcome to Monsanto Plastics Home of the Future! As you entered this experimental model home, perhaps you noticed that the house itself is constructed entirely of plastics. Despite the graceful lightweight appearance of the suspended wings of this house, each one is able to support more than 13 tons!

The floors on which you are walking, the gently sloping walls around you, and even the ceilings are made of plastics. Furnishings and equipment, as well as the house itself, are almost one-hundred percent manmade. Hardly a natural material appears in anything like its original state anywhere in the building.
*vibrates with joy*
The only thing I can think of off the top of my head to improve this modern masterpiece, would be wall-to-wall carpeting, as I don't really like bare floors. And, err, cable jacks in every room. Those are just off the top of my head. But yes! The fecking Monsanto House! I really regret that I never got the chance to see it, and I think they should rebuild it elsewhere, for posterity's sake. I mean, something like that is as significant to architectural history as something built in the 1700s, or anything involving a Corinthian column. And if you ask me, since 20th century Modern architecture & design combines both Form and Function, it's much more impressive