typed for your pleasure on 10 May 2008, at 12.25 pm
---
Sdtrk: 'My year is a day' by Les Irresistibles
And by 'out', I mean 'largely unmotivated to do anything due to illness'. Yep, sick again. Either I caught the last vestiges of whatever plague from SafeT when we were round to goshou's last Saturday, watching the last five episodes of Gundam 00 (note: fucking amazing, and we can't wait for the rest of the series), or I obtained it from Tsukihime, when she was round last Sunday, moving out more of her belongings and coughing like a pro. Personally, I'm hoping it's from SafeT, as Tsukihime has had an on-again off-again battle with bronchitis for months…
So I got round to my GP on Friday, cos although I don't really have the fever or shivers or any of the usual symptoms of the grippe, I've been congested, and my throat's been bone-dry. I could be uncharitable and partially chalk that up to my job, which has me constantly talking to twats across the nation five days a week, but I won't for now. He has me open wide for the tongue depressor assessment, and I'm a third of the way through my AAAHH when he pulls the popsicle stick out, telling me that it's really red in there. As quick as that judgement was, it was undoubtedly pulsing a bright crimson at the back of my throat. He's got me on stronger antibiotics this time round, and these feckers are the biggest pills I've ever encountered. Behold its enormity (sorry for the blurriness):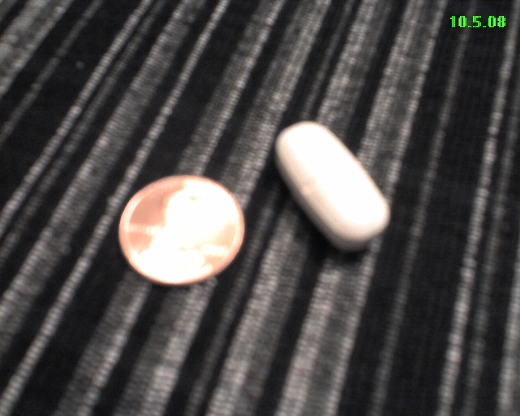 left, a 2008 United States penny; right, a suppository

Imagine, if you can, a two-month old baby. Now imagine swallowing said baby whole. That's what kind of dimensions we're dealing with here. Dr S., do I look like a horse??
Ugh. Organiks. Walking germ factories. But I did manage to stop round Borders and pick up vol.10 of Monster ('a taut psychological thriller') and How to read Death note after my visit, as well as pre-ordered the new book about Boyd Rice, Standing in two circles, when I arrived home, so the day wasn't a complete loss…
Well then! Back to work, or back to bed?