typed for your pleasure on 18 October 2006, at 3.01 pm
---
Sdtrk: 'Degradation of tapes' by Merzbow
Whilst scanning my Technorati faves today, I ran across something on a random Japanese site — KiTECH of Korea's EveR-2 Muse is finally making the scene. In making a couple of enquiries on das InfoBahn, here's what I came up with: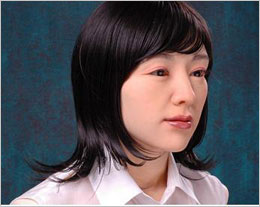 Looking a lot better than the previous model, I'd say
Korea's Second Humanoid Robot to Sing for Fans

The world's first celebrity robot Ever-2 Muse will soon make "her" public debut. Ever-2 will perform a new ballad titled "I'll close my eyes" at the opening ceremony of Robot World 2006 at COEX on Wednesday, the Ministry of Commerce, Industry and Energy said. The robot can be thought of as the little sister of Ever-1, which debuted on May 4 as the first domestic humanoid robot. Ever-2's skin is produced with silicon. It has some 60 motors in the face (23), neck (three), arms (six each), hands (four each) and lower body (12), allowing a wide range of actions and expressions.

The robot can express 13 consonants and vowels and can not only lip-synch but can dance to music and hold "conversations" with fans. Since it senses colors and movement, it can respond based on the reactions of those nearby. Baeg Moon-hong, a senior researcher at the Korea Institute of Industrial Technology, says Ever-1 with 35 motors was able to express the four emotions of happiness, sadness, excitement and anger, but Ever-2 can express eight, adding fright, discomfort, interest and boredom. Ever-2 is 165 cm-tall, 5 cm taller than its predecessor, and at 60 kg weighs 10 kg more.
Rock the hell on, Korea! This almost makes up for that whole nuke thing.
Surprisingly, Robot Watch doesn't have anything on her yet, but I'm sure more info about her will be forthcoming. Watch this space!
Technorati tags: EveR-1, EveR-2 Muse, Gynoid