typed for your pleasure on 14 May 2012, at 12.50 am
---
Sdtrk: 'Folk window' by Hair stylistics
Speaking engagements! Everyone does them! From Crispin Glover, to John Waters, to Henry Rollins, to Crispin Glover! That's both Crispin Glovers, incidentally. Crispins Glover.
Since roughly 2005, various students have come a-callin', asking if they could get my input as to the nature of being a Doll husband and all that entails. The majority of these students, I find, are usually in the field of either sociology, sexuality, or psychology, which means their questions are pretty salient. One such student, Sarah Valverde, had initiated a conversation back in late 2010, regarding the lack of legitimate research in the medical community concerning iDollators, and asked if I could help. Which I did! It started out as a paper, which caused a bit of a stir with the academics she'd presented it to, as most of her audience had either never heard of high-end 'love dolls' such as RealDolls, Sinthetics, etc, and were thinking in the context of inflatables, or they knew what such Synthetik partners were, and weren't keen on the idea. Some members of the crowd thought it was a fascinating presentation she'd made, however, and her academic partner, Dr Kelly Moreno, proposed that she perhaps take it to the next level. What Kelly had meant by that is essentially putting forth a presentation at the 2012 Western Psychological Association convention, due to take place in San Francisco in April. It would be a coup on multiple levels: for one, as stated before, no significant research in the medical community had ever been done on iDollator culture; also, it's extremely rare for a subject to actually represent themselves at a psychological presentation; not only would an iDollator be speaking at this thing, but a Doll manufacturer would be there as well, in the form of Matt Krivicke and Bronwen Keller of Sinthetics, and Bronwen would be relating her perspective of being female in a market where most of the consumers are male. We'd be setting trends!
Although they weren't able to fund my planeticket (or car rental, or hotel fees), I was able to get the appropriate days off work and agreed to meet with everyone in San Fran from 25 to 27 April, for high adventure.
WEDNESDAY 25 APRIL
As my flight from Metro Airport was leaving at 6.15am, I got out of bed at 2am, to leave Deafening silence Plus by 4am. Which would've been more effective had I not gone to bed at a wee bit after 10pm Tuesday eve. Why so late? Well, I'm an idiot. Also I was putting together the finishing touches on my speech that I'd been fretting about for the previous month and a half. What I realised early on that I'd do is end up saying mostly the same thing I say whenever I do interviews, as that's usually what happens anyway. It wasn't until about a week before leaving that I realised that I wouldn't have to write a speech per se; all I had to do is jot down some bullet points, and I'd just kinda answer each one, with the least amount of tangentalising possible. At the very least, I figured I'd sleep on the plane. Had I mentioned I'm an idiot?
With a fistful of complimentary mini pretzels and window seats on both my two hour flight from DTW to ATL, and my five and a half hour flight from ATL to SFO, I managed to get halfway through reading A. Ferguson's 'The Sex Doll: A History', which is rather like a prize fighter listening to 'Eye of the Tiger' before a match. Our plane reached our destination a wee bit after noon, and as per the custom of San Franciscan culture, I was presented with a complimentary box of Rice-A-Roni upon entering the terminal. Ripping the top off the box, I poured the contents down my throat, which got me no small amount of applause from the greeters! And with good reason.
I then went to retrieve my rental; I'd asked for a Chevy Aveo, they gave me a Ford Escape (How do people drive those things? They're massive!), and I'd checked into my room at the Hyatt Regency Burlingame, with its impressive views of that motorway, and whatever that bay is. Ostensibly the plan was to obtain PBShelley, who lives across the bay, and meet up with Matt & Bronwen, as they'd brought up two Sinthetic lasses and were going to do photoshoots of them in the area, get some lunch, etc. Matt & Bronwen were extremely knackered after their drive from SoCal to NoCal, as it lasted longer than they thought it would, and Matt was in the midst of getting a haircut, so they could go do a thing at 5pm. Bronwen advised I join PBShelley, and we'd work from there. So I let him know I was on my way, fired up my the satnav on my Droid, and headed out to pick him up.
One thing I'd noticed about San Fran — really, this could be said of California in general, as it comprises 70% of the west coast of the United states — is that it takes at least thirty minutes to get anywhere, and that's if traffic is in your favour. Getting from where I was to where he was took about forty minutes, and of course, when you're in a bit of a hurry and the terrain is unfamiliar, all of that seemed longer. But it was good to finally meet the esteemed PBShelley in person! He's a writer and fellow iDollator whom I've known since at least 2005, and his Synthetik muse-partner would be the ethereal Lily Godwin. We did a bit of catching up while I signed his copies of Still Lovers and Des poupées et des hommes, and after showing me a few minutes of some of this season's anime series he was watching, he introduced me to Pennie (their adorable black Manx), Soony (their Luts-Delf ball-jointed doll), Eden Gardner (a Britney-type RealDoll face), and Ms Godwin herself. Being made in 2004, she looked initially a bit careworn, but she still has a radiance that reflects the love PBShelley has for her. A lovely couple, to be sure.
As it was quickly approaching the time when Matt & Bronwen had to do the aforementioned Thing, PB Shelley and I figured we'd meet them tomorrow, so we both piled into my rental and headed to San Francisco's heralded Japantown, for shopping and dinner. On the way there, PB Shelley pointed out various landmarks, such as Alcatraz, the Golden Gate bridge, and the Transamerica Pyramid in its final stages before liftoff. It's times like that when I wish I wasn't the driver, so I could've gotten still pics and video footage of the surroundings, as I was distracted by this strange new landscape, with its 45° angled roads. So distracted, in fact, that I ran a red. You see, in Michigan and other (relatively) civilised countries, we hang our traffic signals above the road itself, whereas in the greater metropolitan SF area, they simply put them on poles on either side of the road. Which is kinda dumb. But there was no loss of life, and as 'no cops, no crime' is one of my credos, we did alright.
Japantown was very impressive! Two Kinokuniyas, a toy store, various other stores offering tchotchkes, a cluster of restaurants, all across six city blocks. If you had combined the enormity of Toronto's Eaton centre (one of the few malls I'll actively set foot in) with the Japan-centrism of Arlington heights' Mitsuwa, you'd have Japantown. If I lived in NoCal, I'd be there every week-end, blowing my hard-earned cash. PBShelley and I spent an inordinate amount of time in the ground floor Kinokuniya, where I picked up a copy of the Kamen rider Official Visual 40th Anniversary book for $19. One of the only strikes I have against Kinokuniya is that all their books are shrink-wrapped, so as to prevent sweaty gaijin hands despoiling the merchandise. Guess that means I have to get back to learning Japanese!…
Japantown in particular is an example of the phrase 'What is freedom? Slavery of choice', as it took us nearly ten minutes to select a place to eat from the many restaurants on the second floor, as they all looked really, really enticing. PBShelley recommended Mifune from personal experience, but there was a queue to get in, and if I had to wait any longer than necessary for something to eat — remember, I hadn't had anything decent in me since driving to Metro Airport — I would've gone feral. We settled on Kushi tsuru instead, which had great food at affordable prices, and had a pleasant chat about iDollator culture (onward and upward, depending on your perspective), and the current state of the anime industry (derivative rubbish, depending on your perspective).
Round 9pm, most of the shops were shutting up… shop… so we reluctantly made our way out of there. Even with my Droid's satnav, I was still pretty much at a loss as to the most effective way to get back to my hotel, so instead of having me drive him all the way back to his place in one direction, then all the way back to the Hyatt in another, PBShelley offered to take the BART back home. Good to actually see him and his for the first time, though! I'm personally spearheading a campaign to get him to move to Michigan, as he knows more iDollators in the tri-state/Ontario, Canada area. Maybe I should turn to Kickstarter.
At some point nearer to the Hyatt, I had tears literally streaming non-stop down my face for about five minutes. Not because of any emotional reasons, mind you; my eyes were just really fucking dry and irritated. Keep in mind I'd been awake several hours without proper sleep, having spent a decent amount of my day in an airborne bus with dry, recycled air. Stinging, gushing eyeballs, ladies and gentlemen. Christ, that was annoying. Almost as annoying as realising that PBShelley had neglected to autograph my copy of Still Lovers. *clenches fist* All the more reason to get him to move to Michigan!
Overall, it was a cracking day, but the whole reason I was in California once again was to take place tomorrow…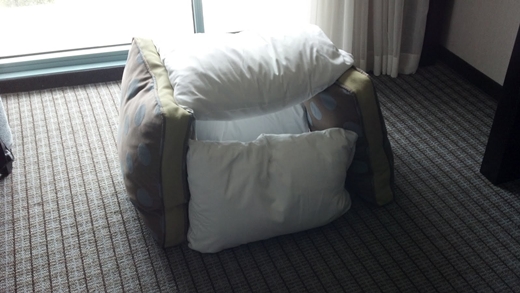 At some point, this happened
NEXT UP: A rubbery rhetoric!