typed for your pleasure on 26 December 2012, at 10.17 pm
---
Sdtrk: 'Dance floor bathroom' by Coachwhips
Time for the annual Shouting to hear the echoes Boxing Day Post! And by 'time', I mean that this would be the first time I've ever announced this sort of thing. And more than likely the last! Who has time to read a blog on Boxing Day? People are too busy punching each other!
And that's the exact lack of cultural sensitivity that'll prevent me from moving to Toronto.
For all of you who keep furtively checking the post announcing the impending arrival of our rubber Russian, Elena Vostrikova, she's been safely home since the 18th of the month. I'm slowly writing the posts that'll comprise my review of her (spoilers: Sidore and I are in love with her), as well as the tale of How I Brought Her Home, so expect that in… err, January? Yes. But Lenka's enjoying herself at Deafening silence Plus! The Missus has someone female to interact with, and my plan of getting multiple Dolls from differing manufacturers has moved a step forward!
We'd hosted the last Doll Congress of the year round at ours; Mahtek and Noquiexis from Ohio, CJD and his Organik wife Cat from Ontario, and 'Hans' from Chicago were in attendance, and we were joined by Euchre later that eve for dinner. Not only was it the first official Congress we'd had since last August, but this was the first time everyone got to meet Sidore and Elena together! As usual, it was a fab time, with great people, but then, our iDollator meetups always are.
After everyone piled into their cars and went home, Lenka wanted me to get her first official photoshoot in! So I did.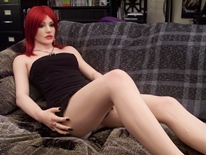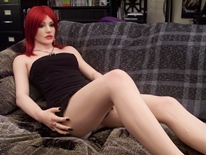 Just under sixty photos is a good start, I think. She's gonna need more clothes; she'll never fly Korean Air again, as they lost her luggage. Lesson learned!
And on the obverse side of the coin, today I also learned that Gerry Anderson, creator of amazing science fiction productions such as UFO, Space: 1999 and 'Doppelgänger' (aka 'Journey to the far side of the sun' outside the UK), and pioneer of Supermarionation, the revolutionary technique that brough us Thunderbirds and Captain Scarlet, passed away today at 83 years of age.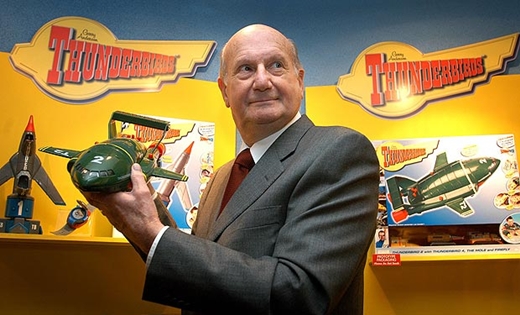 Gerry Anderson: Obituary
BBC News | Published Wednesday, 26 December 2012

TV producer Gerry Anderson, who has died at the age of 83, made his name with classic shows like Thunderbirds – despite saying he never liked working with puppets.

After starting his career at the Colonial Film Unit, part of the Ministry of Information, Anderson set up a TV and film production company, AP Films.

But work was hard to come by, and when he was approached to make a puppet show called The Adventures Of Twizzle in 1957, he had little option but to accept.

"I was shattered when I learnt the programmes had to be made with puppets as I'd allusions of making great pictures like Ben Hur," he later said.

"But there we were with no money, and an offer on the table. We had to take it."

Another puppet series, Torchy The Battery Boy, followed, and the positive reaction to his wooden creations and relative failure of live action ventures persuaded him to stick with the marionettes.

The 1960 series Supercar, about a vehicle that could travel in the air, on land or under the sea, honed Anderson's trademark formula of mystery and futuristic adventure.

It also allowed Anderson to perfect his production technique called Supermarionation.

The voices were recorded first, and when the puppets were filmed, the electric signal from the taped dialogue was hooked up to sensors in the puppets' heads.

That made the puppets' lips move perfectly in time with the soundtrack.

Subsequent science-fiction puppet series Fireball XL5 and Stingray were also hits, and Anderson dreamed up the idea for Thunderbirds in 1963 while listening to a radio report about a team of rescuers rushing to a collapsed mine in Germany.

The idea for International Rescue was born, and the show saw the Tracy brothers take off in their fleet of space-age craft from the secretive Tracy Island to complete daring rescue missions and combat nefarious villains.
the rest of the article is here
After Doctor Who, UFO has to be one of my favourite science fiction programmes from England. Its optimistic view of the future — the series took place in 1980 — was the kind of future that I would've loved to live in, as the fashion and architectural design was completely informed by the Sixties. I mean, if you can't trace a direct line from the purple wigs of the SHADO Moonbase Operators to my wife's preferred haircolour, you haven't been paying attention. And although I enjoy Thunderbirds, to me it pales in comparison to Captain Scarlet and the Mysterons. The episodes were a better length, more espionage-driven, and every episode had the Mysterons broadcasting their intentions, as Spectrum raced to foil their plots.
Those shows, as well as most of the ones produced by Gerry's company, Century 21, featured mechanical designs by Derek Meddings and Reg Hill, whose influence lives on in the many tokusatsu series of Japan. Years ago, I'd attended an anime convention, and one of the Q&A panels had one of the Super Sentai production staffers being interviewed; I can't remember his name off the top of my head, but he was one of the producers. One of the friends I went with had asked if there was a correlation between all the vehicular techno-gadgetry of shows such as the Ultraman and Super Sentai franchises, and he'd replied that Gerry Anderson's Supermarionation programmes were a huge inspiration on the set and model designs. And of course, let's not forget that we wouldn't have Parker and Stone's 'Team America: World Police' without him.
Considering the legacy of innovations that he'd created, the world will probably never see another director as unique as Gerry Anderson