typed for your pleasure on 11 June 2012, at 11.31 pm
---
Sdtrk: 'The boys and the girls' by The Network
Did you read Part I first? Go read Part I first.
THURSDAY 26 APRIL
After a good night's sleep — exhaustion and jetlag rendered me blissfully insensate — I was up with the lark at 8am, and ready to do my part as an ambassador for iDollator culture. Or make a complete tit of myself, one or the other. Matt, Bronwen, and I were to meet Sarah and Kelly in the hotel's lobby cafe for brunch at 11am, so we could meet in person, and go over minor details of our panel. We'd be joined by fellow iDollator Z-Dr, who lives a number of miles north of the Bay Area; as we told him we were in town, he took the opportunity to meet up with us for the first time since DolLApalooza 2011.
Much like most hotels, the Hyatt Regency earnestly believes that its patrons will want to spend anything over $0 to access its substandard hotel wifi, so fellow iDollator Euchre suggested I use my Droid as a hotspot for surfin' teh webs. Three minutes later after installing PDANet and FoxFi, I was in business! Lovely apps; wouldn't hear a word against them. Shame I can't put them to use on an airplane, though… Gogo Inflight Internet, you ask far too much of me.
At 11am, I was on my way downstairs. As I headed through the gigantic lobby, I'd noticed that most of the people milling round the WPA sign-in and registration booths were actually younger than I'd expected; most of them seemed to be my age or younger. I was expecting white-haired academics in lab coats with an average age of fifty plus, so that was a bit of a shock. What were we in for? Would the audience members be livetweeting the panel to their Myspacebookfaces??
Matt & Bronwen were the first people I'd run into in the cafe. Which was good, as they had the same concerns as I did — no-one knew what Sarah or Kelly looked like, so we had no idea of who to look for. After exchanging pleasantries (high fives), they split off to call Z-Dr, while I grabbed a seat to call Sarah & Kelly. Sarah materialised as we were on the phone with each other; she was a lot shorter than I expected her to be. But that's good! Facially, she kinda reminded me of Allison Reynolds, Ally Sheedy's pseudo-Goth character from John Hughes' life-defining film 'The breakfast club', only she resembled Allison after Claire ('Claire… that's a fat girl's name') gave her a superfluous makeover. But that's also good! We exchanged pleasantries (fist bumps), and she led me to the table that Kelly had already secured for our brunch. Kelly was tanner and younger than I pictured him. But that's good! In short, no-one looked like anyone expected. I think there's a lesson there for all of us.
One satisfying brunch later — apart from the fact that Sarah informed me that she was doing a PowerPoint presentation; had I known that was an option, I could've whipped up something to distract the audience from endlessly staring at me — we all separated at 1pm so we could get our collective stuff together for our presentation. I'd spent my time staring at the traffic and the bay out my window, and fussing incessantly with my fringe. Some people smoke to take the edge off; I handled my nervousness by repeatedly applying hairgel. Fact.
Upon entering the convention room, it was almost filled to capacity, save for a couple of seats in the frontmost row; I'd say the seating capacity was probably about 100-150 persons, and they were a couple short of that. At least when I arrived; other patrons were still coming in from the second entrance in the back, and they were still entering a good five minutes into the symposium. Down the front, standing right next to the podium, was a demurely sexy Body 1B Alicia-type, and naturally, her afficitious presence drew a crowd, as Polymerisians tend to do. Bronwen informed me that just before I showed up, one woman came in, caught sight of Alicia, and did a 180° out of there. Her loss!
Despite one or two people not being totally on board with the idea of affictitious humans, the panel went very well! All of our speeches were informative, surprising, and entertaining, and I'm not just being biased in saying that. Instead of me blathering on about them, why not download the presentation from here, and listen to it yourselves? Stare at the photo below to pretend you're in the room, and it's just like being there!


Alicia (centre), detailing her plan for sexy world domination
Afterwards was fantastic, too. Probably about a third of the audience came up to Alicia to scrutinise her up close, feel how lifelike her skin is, take photos with her, etc. And would you believe I had groupies as well! A small cluster of patrons, having seen the Missus and I on fill-in-the-blank programmes, asked if they could take pics with me, feel how lifelike my skin is, etc. Really, at that point, I'd wished I'd had calling cards made before my trip, as I could've handed them out to interested parties; it would've been loads easier than telling everyone 'just go to Google and type in "Shouting to hear the echoes Davecat"'. And you lot know how easily that URL just rolls off the tongue. But reactions to Alicia were very positive! We even got a chance to wheel her out into the Hyatt Regency lobby while all sorts of individuals came up asking us about her. One of the bellhops tipped a knowing hat to her!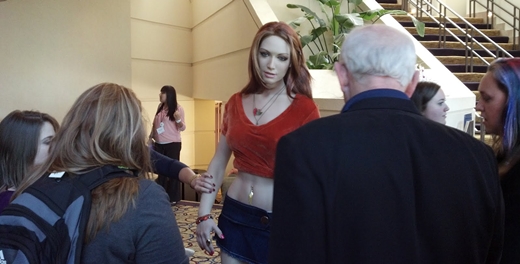 Ninety minutes of that, and Matt & Bronwen had to take the starlet back to their rented apartment in the area, so they could get some photoshoots in before the sun went down. Although Kelly & Sarah were going to join them on Friday, they couldn't make it this afternoon, but needless to say, I was up for joining them. Hanging out with mates, talking about Dolls, and snapping pics of the silicone lovelies as well? YOU HENCEFORTH HAVE MY ATTENTION
After visiting an otherwise nice sushi restaurant five minutes from the Hyatt — I say 'otherwise' cos they looked like an alright place, but the food was a bit bland — I met up with Matt, Bronwen, Z-Dr, and two Sinthetics at a three-storey brownstone. It's at this point I once again get to trot the 'San Francisco: nice place, but I wouldn't want to live there' phrase again, cos I mean, your housing and streets are irretrivably insane. I regret not getting more pics in of the road and neighbourhood layout, mainly cos I was spending about ten minutes trying to find a parking spot, but in all seriousness, this was about what I'd experienced. And those tiny one-car garages! At completely right angles to the road! Who thought this was a good idea?? Once again, lovely city: very clean, nice architecture, no lack of things to see and do, but it's undoubtedly much more negotiable overall if you own a Vespa.
Z-Dr and I hung round watching Matt set up lights and take photos for shoots that will eventually be posted on the Sinthetics website, as well as observing Bronwen sort through countless bags of jewelry and accessories for the girls. There are very few aspects of Dolls that I don't like, and being witness to a photoshoot is amongst them. Had my wits been about me, I could've volunteered to help dress and undress the affictitious models…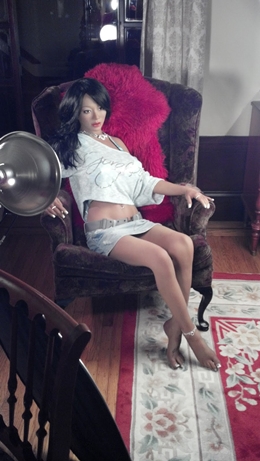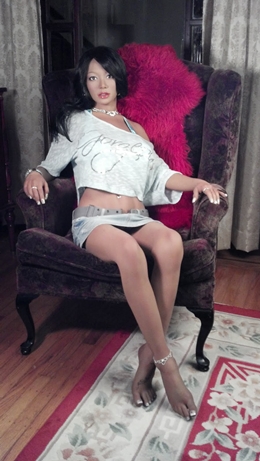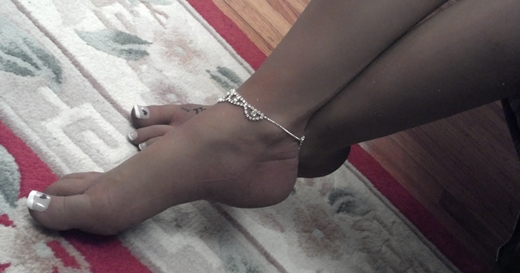 A Kimiko 1H, putting her modelling school training to good use
As I'd stated, where Matt & Bronwen stayed for the trip was a rented apartment; whenever they do stuff in California, they try to rent places that have interesting decor, so they can get a couple of photoshoots done of whatever Sinthetic(s) they bring with them, for a unique change of pace. This apartment was being rented out by some sixty-year-old Eastern European gentleman, as it turned out. I'd had the opportunity to meet him that evening, as he'd popped back into the apartment to drop off some things he and his wife bought. Seeing a bloke with a thick, Stalinist moustache standing wide-eyed in the doorway of the living room, staring slack-jawed at the topless Alicia hanging guilelessly from her hook was something unexpected by everyone present, it should go without saying. As Bronwen had given him the heads-up as to what they'd be doing there before they signed the contract, he was cool with it, if a wee bit gobsmacked. Although he was under the impression that they sold lingerie, and the Sinthetics were just there to model bras and knickers!
Round 1am, Z-Dr and I decided to take off; it was getting late, and as much fun conversation we were having, it was kinda taking away from Matt & Bronwen fully realising their shoots, so it was regrettably time to dole out the hugs and handshakes. The problem, I find, with hanging out with any of the Doll manufacturers, is that they all live on the West coast! Or in Japan, Russia, France, Germany, et al. Move closer to Michigan! Then you won't be able to get rid of me!
Hrrm. Perhaps that's why they're all located on the West coast, in Japan, Russia, France, Germany, et al.
FRIDAY 27 APRIL
Although I'm fairly certain I would've enjoyed more of the week-end if I'd 1) had more time, and 2) had it take place on the actual week-end, getting out to the WPA convention was still a hell of a trip, and an event I'm entirely proud I took part in. So after compulsively checking my hotel room to make sure I wasn't leaving anything behind, it was time to return home.
One of the things I hate about hiring a car to drive anywhere is the fact that you have to return it with a near-empty fuel tank, and depending on where proceedings are taking place, where you need to go, and how much time you have overall, sometimes that's nigh-impossible to do. One solution would be to drill a hole in the tank and let that fecker drain, but that's more trouble than it's worth. Not, ah, that I'd know or anything. Shrugging, I dropped my oversized vehicle off with a half-empty tank, then boarded SFO's rather futuristic tram system to get to my departure terminal.
Now during my (somewhat choppy) flight over all that the Midwest had to offer — namely mountains, clouds, lakes, and red sand — I'd wondered why airplane manufacturers don't assemble more commercial aircraft in the style of my second favourite plane ever, the Hawker Harrier? Instead of all that taxiing down the runway silliness, why not just point the intake end of the engines upward, and take off from a standing position? Also, being able to hover to some extent would also enable the building of multistorey airports as well. Why isn't this a thing in the twenty-first century? I mean, if I can't have my daily Pan Am flights to our orbiting space colonies, at least give me this…
Euchre later reminded me that such vertical propeller-takeoff planes do exist; they're called the V-22 Osprey. I'd actually forgotten about them, as I don't hear much about them. He explained that was more than likely due to the fact that they tend to crash a lot. I mean, enough where there's a Wiki page devoted exclusively to Osprey-related accidents. News like this make the plans I have for a system of rocket tubes stretching from one coast to another that much more of a viable idea, wouldn't you agree?
Both my flight from San Fran to Atlanta, and my voyage home from ATL (also choppy), lasted from quarter after 1pm PST to roughly 12.30am EST. Shi-chan says I initially crawled into bed with my clothes on until she made me shed them, so I guess I was a bit tired. Gotta say, though: was definitely a good kind of tired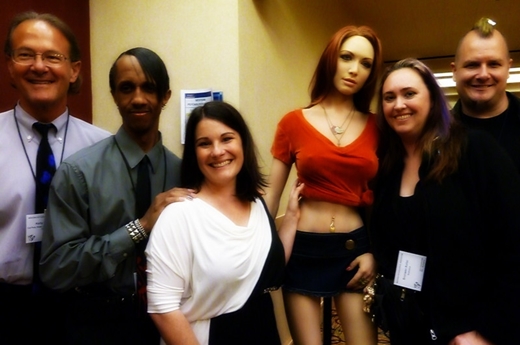 Kelly, your humble narrator, Sarah, Alicia, Bronwen, and Matt