typed for your pleasure on 10 December 2005, at 1.56 pm
---
Sdtrk: 'Uluk constitution' by Merzbow
ACHTUNG, PEOPLE OF GERMANY — also non-Germans with access to good bookstores — Go hit those bookshops and pick up the January '06 issue of Maxi magazine, as it contains a stunning new article concerning 'Still Lovers'. Writer Annett Heide conducted some brief interviews with Elena Dorfman, as well as a few iDollators, such as Gordon Griggs, PB Shelley, Everhard, and myself, of course. 😉
This would be the cover: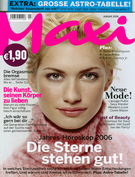 If you hit Maxi's website, it currently displays the cover for the December '05 issue. On second thought, don't hit Maxi's website, cos quite frankly, it's pretty damned useless. You say you've already clicked on the link? O, sorry.
Yes, the article's entirely in German, as is the whole magazine, but don't let that stop you. Plus, that issue comes mit einem grosse Astro-Tabelle, for all of your German Zodiacal needs for the new year! Such a deal!