typed for your pleasure on 28 April 2010, at 10.32 pm
---
Sdtrk: 'Temptation' by New order
Although I suspect the cannier amongst you that have been keeping up with my Twitter feed have already guessed (see, it pays to follow me on Twitter — you'll be the first to learn about All Ephemera Great and Small concerning Deafening silence Plus. Much to your own detriment), but my Synthetik wife Sidore will have a brand-new body very soon, the fact of which is making us leak pure excitement. Yeah, I know; ew, but it's a fantastically good kind of ew.
'A new body?' you ask. 'Wasn't she repaired a couple of times?' Yes she was. Most of you were more than likely introduced to Shi-chan and I through Nick Holt's 2006 documentary 'Guys and Dolls', aka 'Love me, love my Doll' outside the States, where you witnessed me crating up the Missus and having her sent round to Slade, the then-practising RealDoll doctor in southern California, for some much-needed surgery. Well, as I often have to remind non-iDollators, Entropy affects Synthetiks just as much as it does Organiks, unfortunately — between then and now, she's put up with a handful of minor cuts and tears that were easily seen-to, and are pretty much par for the course for anyone with a Doll in their life.
Until, that is, round last summer, when Sidore's back joint gave out, which I'd mentioned before. Fellow iDollators Mahtek and Euchre came round and repaired it, as that level of surgery is completely beyond my ken, but sadly, the repair didn't take. Dolls are mostly made of soft silicone, which gradually gets softer the older she gets, and it's because of that fact that when her wound reopened, it really reopened. Take a second to place your right hand on your right hip; starting from the middle of her back, that's roughly about where the tear ended. Yeah, fun times. She's been unable to move — well, realistically speaking, unable to be moved — and has remained on her back in our bed since then, which has been utterly heartbreaking.
Any dedicated Doll husband lives with the fact that, despite the love, attention, and care we show our affictitious partners, that one day there will come a time when their bodies will simply become irreparable. Faced with Shi-chan's condition, I decided to take the obvious and practical approach, and get her a brand-new body. Thanks to the combo of a couple of monetary windfalls, the calling-in of some favours, and personally speaking with the head of Abyss creations whilst at the 2010 AVN, we're pleased to announce that the world's second most famous RealDoll* will be back to her regularly sexy sarky self before the end of the month!
Not only is the Missus looking forward to getting back to her Twitter fans and friends, but Mahtek has recently bought himself a new digital camera, so he's generously given me his old one — it's a Kodak, and it makes Clicky Mk III, a Hewlett-Packard, resemble the sorry joke that it is — so Shi-chan's made me promise her that we'd do one shoot a month. 'What's the point of me having a new body, and you having a new camera, if we don't put them to good use, right?', she'd said, and you have to admit she's got a point!… What I'll probably do is create an album for her pics in Our Doll Community's Gallery until I can find a web designer, preferably one that accepts either empty pop bottles or compliments in lieu of genuine payment, that can help me resurrect Shi-chan's dusty old vanity site, 'Kitten with a Whip!' (down since 2005!)
It should go without saying: having my wee Sidore-chan back, and in a better-than-ever condition, is going to be fucking incredible.
Finally! Now she can finish our copy of Armored core: Nexus!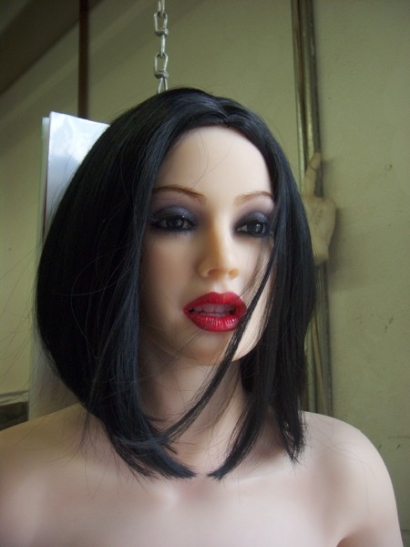 The Missus, enjoying a nice cross-breeze, at Abyss creations
*the title of World's Most Famous RealDoll goes to Bianca, of 'Lars and the Real Girl' fame. Shi-chan was rather miffed until she remembered that she's the world's most famous Goth RealDoll