typed for your pleasure on 7 December 2009, at 12.55 am
---
Sdtrk: 'Geraldine' by Glasvegas
You lot have been warned: the December instalment of 'Any Synthetiks-related news…?' will be a veritable freight train. So as a bit of an hors d'œuvre (or, if you like, a plateful of hushpuppies), we have 'Sex Slaves, Polls, and Ethics', courtesy of the Institute for Ethics and Emerging Technologies (found via Alice Keenan):
For now, it seems clear in the not-too-distant future a leading commercial application for personal robots could be as "companions" and/or sex toys. So, we thought it would be amusing to post a poll asking our readers what specialty they would find most useful in a robot they might own someday.

Here are the results:

the rest of the article is here
On two separate occasions, fellow blogscribes veach and SafeT had put the question to me about whether having an Android or Gynoid companion constitutes a form of slavery, as although they might have artificial intelligence that's complex enough to simulate an Organik personality to a reasonable degree, the fact that many technosexuals would have it so that our artificial partners would never even think of being with someone else might carry a whiff of slavery issues. Obviously, answering that sort of question properly would turn this post into a full-blown essay, but personally, I'd answered it once as no, it wouldn't be slavery, as slavery implies that a person (Organik, Synthetik, you get the idea) was living a life of contentment, until the point where they were taken out of that contented life against their will. Now if you have an artificial person that hadn't even existed before they were shipped off to live with whomever had them assembled, then it's not slavery. It's more of a 21st century version of an arranged marriage, if you think about it. Like I said, it's a bit of a sticky issue — not completely, but somewhat.
Interestingly enough, in the comments for that IEEE poll, a Michael Bone of Toronto wrote
What bothered me was not the inclusion of 'sex slave' as an option, but the fact that it was the only case that explicitly included 'slave'. This would be considered an inexcusable methodological flaw if you meant for your poll to be taken seriously.

That said, I was rather surprised by the percentage of 'sex slave' respondents. I just hope it is because they were able to see beyond the rhetoric.
At any rate, I'm sure groups such as the American Society for the Prevention of Cruelty to Robots, among others, will be on the case…
In a similar vein, Everhard, Stepford-on-Sea's most famous iDollator, has written a short but interesting essay about perceptions of people, particularly Organik females, to men who have chosen the iDollator lifestyle, with the rather Ballardian title of 'Impact of Distress from Perceived Infidelity with a Doll'.
It is assumed that, because of the realism of these dolls, people react to them much as they react to real women, at least in terms of sexual jealousy and related emotions. That such emotions arise from the assumed fertility of a sexually attractive female—while a doll is infertile—is no contradiction because the dolls are made specifically to appear fertile and to arouse associated instincts.
the rest of the article is here
Somewhat related: I was once in a brief debate with someone — we were firing comments at each other on YouTube — who said that although she liked the idea of Dolls and Gynoids in general, she wasn't keen on the concept of men having them as romantic and / or sexual partners, as 'for every man that chooses andriods [sic] over a real women [sic] is one woman that doesn't have that man as a partner,' unquote. She seems to believe in the school of thought that 'there's someone out there for everyone if you just look hard enough', whereas I believe there's someone out there for everyone if you have them assembled and programmed for you. Her standpoint is an idealistic one, based on the premise that even if Organik people screw you over, you can simply try and try again to find a mate, which is great for some people, but unfortunately isn't the solution for all people. And not to be antagonistic, but her standpoint is also a bit short-sighted, technology-wise. If your Synthetik partner has enough 'draw', meaning, enough physical appeal to attract you and keep you attracted, and enough behavioural programming to simulate what you want out of that partner, then what more would you need, really?
To be honest, her comments had an underlying tone of 'if men choose Gynoids over Organik women, where will that leave Organik women?' That's always rankled me, cos it assumes that all men, once Gynoids become available on the consumer market, will suddenly stop dating Organik women forever and go for the affictitious option. Isn't that a silly way of thinking? On the contrary, she should instead consider that those men who want Synthetik female partners will go after them, thereby reducing an Organik woman's dating prospects to just men who specifically desire an Organik partner. And everyone's happy! You simply have to think of it in the context of the long game, that's all…
It seems the Good People at KnightHorse had a modest little celebration back in October!
[October] marked a big date for us, and for Yvette. On October 27th we celebrated Yvette's birthday. The very first Lovable Doll was pulled from the mold on October 27th 2008 and has enjoyed a year of actively modeling her many looks.
Not only did Yvette hold a party with her friends (hey, where were our invites??), but Matt K and Bronwen will be retooling their website very soon, to mark the company's first anniversary. Onward and upward, KnightHorse!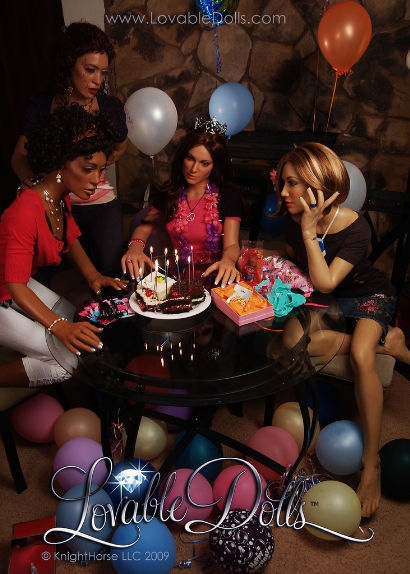 Ten bucks says they'll eat those cakes using just their hands
Also, they've just kicked off a pretty fab contest for a worthy cause that you might want to look into. Especially if you have any interest whatsoever in bOObs…
And in the Sad Stories With Happy Endings front, my poor wee Shi-chan had some rather important surgery done this past Saturday. Sometime during the latter half of the summer, her back broke. Keep in mind that her body is several years old, and Entropy unfortunately affects Dolls almost as much as it affects Organiks. I figured she'd be in slightly less danger, as she pretty much spends her days lounging round in bed as a matter of course, but eventually, the bottom end of her spinal column wore a one-inch wide slit through the silicone at the base of her back. Yeah, you can pretty much imagine the look on my face when I discovered that.
So this past Friday, whilst driving home with Mari from my father's house, she rang Euchre to let him know we weren't stopping round that eve, as we'd been at my dad's for like 4+ hours and were knackered. But she'd mentioned Shi-chan's predicament to him, and Euchre almost immediately handed the phone to Mahtek, who just happened to be round at his that night, and he agreed to stop round the next day to see what he could do.
Luckily, the Missus' spine wasn't broken, but the bolt that held it in place into her pelvis had worked itself loose — her body's several years old, y'know — but Mahtek, with Euchre's salient help and the pervasive sense of worry that I provided to the whole ordeal, was able to reattach one joint to the other after about three hours' worth of labour. Now she's lying on her stomach in bed, hogging the electric blanket and complaining that it's impossible for her to read in that position. She's on the road to recovery!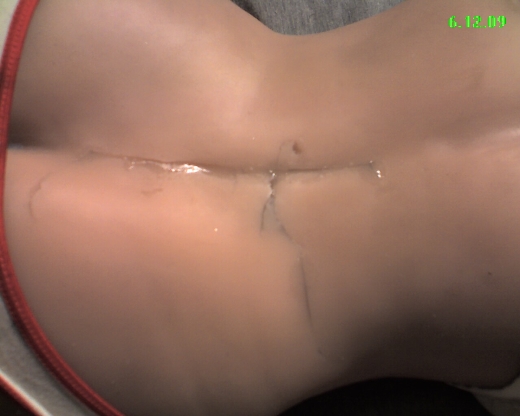 Reminds me of when Mick Jagger put his hand through that plate-glass window back in 1975
I've said it before, and I'll say it again — thanks, gents, from both of us!
Right; I'll draw a line under it here. Look for the actual 'Any Synthetiks-related news…?' post relatively soooooon