typed for your pleasure on 14 September 2005, at 11.12 am
---
Sdtrk: 'Le plus fort' by Pussy Cat
On Mon eve, I attended my first official class regarding my court reporting studies, Machine shorthand. Originally I was hoping it would be a course to teach me how to better speak to and understand machines, but alas. It's a class of about 15 to 18 students, and I'm one of two blokes there, not counting the teacher. It'll be interesting, no doubt, but sweet baby James, I had no idea that it would be as expensive as it would be.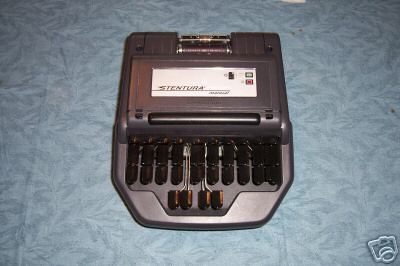 This is a Stentura, a typical stenographer's typewriter by Stenograph. (No, the keys aren't marked. I'm sure we'll learn more about that at a later date.) The average price for a used one runs between $400 – $800. New, depending on the model, they're either $1100 or $1400. Then there are the books, which I've not even looked at yet, the paper which loads in the back (not pictured), and the transcription software, which normally costs about $1000, but I can get a really good deal on.
Sure, once I've graduated, something like $800 will be a drop in the bucket, but for fuck's sake.. I had to go and choose an expensive career path, didn't I? Had I known it would be this pricey, I would've held my old telemarketing boss up at gunpoint. Which, arguably, is something I'd still like to do, but mainly because he's a shitty human being, but that's neither here nor there right now.
Further notes on the first session: Mr Floury, our teacher — who somewhat resembles the bloke that played Otter from 'Animal house', only shorter — was explaining that he's a freelance deposition person ('depositionist'? 'depositionaire'?), and he works mostly from home, doing as much or as little work as he wants, according to whatever hours he wishes to work. He said in no uncertain terms that he's teaching this class cos he wants to give back to the community — he'd graduated from OCC about seven years ago, if I'm not mistaken — and he's not doing it for the money, cos with the depositions, he makes about five times as much with that as he does teaching. Apart from having to supply your own medical insurance and bollock like that (which should hopefully be less of a problem when I move Northward), it's a career that's completely flexible and lucrative. Hearing Mr Floury speak in extant about what he does and what court reporters/broadcast transcriptionists do in general was quite encouraging, and actually made me feel good about my decision to pursue this.
So what was I saying? O, right! Feck, those supplies are expensive