typed for your pleasure on 17 May 2005, at 12.50 pm
---
Sdtrk: 'Surfactant' by Merzbow
So, what have you cats been up to? Huh, really? Me either.
Not a tremendous amount going on with me at the moment, although I did manage to score bargain-priced copies of Phantom crash and Blood will tell. To be honest, Phantom crash has been taking up a lot of my free time, but then, as I'd said, there simply isn't a whole lot I'm up to right now.
Right, well, there is this (cross-posted from the thread I'd started on The Doll Forum):
Once again, the illustrious Ta-bo-san has yet another link in his diary worth investigating; this time it's a film that looks pretty ace, called 'Tamaño Natural', aka 'Grandeur nature', aka 'Grandezza naturale', aka 'Life Size'. Directed by Luis Garcia Berlanga, it looks to be like a 70s version of 'Monique'. Apparently it was just released on DVD this year. '2005 March, DVD was obtained finally,' Ta-bo-san sez through Babelfish. 'It is Spanish reissue edition.'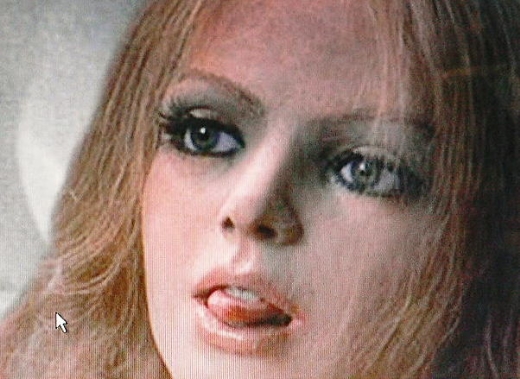 Looks ace! But I would say that.. Actually, I already did say that.
O, and Abyss creations have posted new pics of their RealDolls on offer; that's definitely noteworthy..
Finally, I have built a haiku out of raw matter. This is what happens when you step outside, by the way.
Oily black bird lands
Pecks at lawn without stopping
He has lots of time