typed for your pleasure on 11 February 2008, at 7.49 pm
---
Sdtrk: 'Alright, already' by Combustible Edison
Being as that I'm a reasonably large fan of the comic-artist stylings of Jamie 'The Bicycle King of Worthing' Hewlett, you know what gets on my wick? I've got all of the Tank girl trade paperbacks available (except for 'Tank girl: Apocalypse!' as that was shite), and I even have a copy of the rare 'Hewligan's haircut' in my library, which I proudly display whenever dignitaries or heads of state pop round Deafening silence Plus. However, the one thing I desperately need a trade paperback of would be his series 'Get the Freebies!' which ran in the UK fashion/music/style mag THE FACE back during the late Nineties.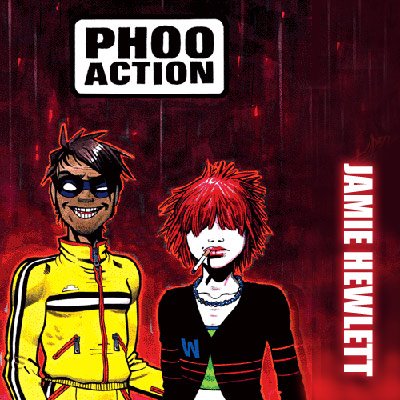 The premise of the series was typical The Hewll: gay Buddhist kung-fu expert Terry Phoo and his partner Whitey Action, a former child star who has her breast development stunted by hormone use, work for the police in order to capture the Freebies gang, which is comprised of Burk, a dumb purple gorilla; a fey midget with hooves for feet whose name I can't remember; and Marlon, their leader who has a basketball for a head. They drive round in Matchbox cars, Whitey's main gimmick are her utility pants, which are a bottomless pair of knickers which hold her weapons and… anything at all, really, and in the first issue, the Freebies get killed. But that doesn't stop them from reappearing in the rest of the series! YES. HEWLETT.
What shags me off worse is that there actually is a trade paperback for Get the Freebies! But the bastard's in Spanish. DAMNIT *slams fist on table*
However, there might well be a live-action television series. The Devil, you say.
Car chases, kung-fu and comedy come together in the wonderfully warped world of Phoo Action – an offbeat 60-minute drama special for BBC Three.

Based on characters created by Jamie Hewlett (Gorillaz, Tank Girl) for The Face comic strip Get The Freebies, Phoo Action is set in 2012, when London is in the grip of mutant criminals, The Freebies.

Only Terry Phoo, a hapless Buddhist kung-fu cop, and unruly teenage heroine Whitey Action, the daughter of Police Chief Benjamin Benson, can save the nation.

Together they form an unlikely but effective crime-fighting team who bring together chaos and comedy, mischief and mayhem, to become heroes for a future generation in the face of Britain's super-vile, super-famous mutated criminals.
taken from this site
Going by the trailer on the above-linked Myspace page, the pilot looks rather Sid and Marty Krofft-esque, which fits, and would probably be the only proper way to translate something like that into three dimensions. Also, it's reassuring to see that it's directed by Euros Lyn, who was in the director's chair for one of my favourite Doctor Who episodes, 'The girl in the fireplace'. Huh! And HOLY CRAPS IT'S ON BBC THREE THIS TUESDAY NIGHT AT 9PM.
As long as it's nothing like that hideous Tank girl movie, there'll be no need for that massacre. Err, not that I was planning one, of course
Technorati tags: Jamie Hewlett, Tank girl, Get the Freebies!, Phoo Action, Doctor Who, BBC Three, Sid and Marty Krofft, Worthing