typed for your pleasure on 8 May 2009, at 1.02 pm
---
Sdtrk: 'Who can say' by The horrors
Nope! But instead, there is this, which is a genuine news article.
Whitstable mum in custard shortage
This is Kent.co.uk | Published Wednesday, March 25, 2009, 19:42

A MUM of three is dis-custard after a hunt for the dessert sauce in the town proved fruitless.

Keen baker Jules Serkin, 43, of West Cliff, Whitstable, needed a tin of custard powder to top off her apple and blackcurrant crumble.

But she was left with a sour taste in her mouth after getting no joy in either Co-ops at Oxford Street and Canterbury Road, and in Somerfield, in the High Street.

Even a trek to Tankerton's Tesco Express – a corner shop version of its superstores – was wasted.

"I try to support my local businesses, but in the end I had to resort to going to one of the big supermarkets to get what I needed," said Jules, a holiday rental company director.

"I feel very sad that I can't seem to get basic stuff from my high street, and am driven to go online.

"Custard is a staple product on my shopping list and I cannot understand why it should be so hard to find.

"An assistant in Somerfield said they'd had other shoppers asking for tins of custard, but it hadn't been in stock since the shop was refurbished.

"And in the Co-ops I was just greeted with an empty shelf where it should be, and no idea when they might be getting it in.

"I am upset because it seems these shops cannot order a product that customers are demanding as it doesn't seem to fit in with what they are selling.

"I had to resort to buying sachets which cost only a few pence less than a tin, and don't go very far at all. If I buy a tin, it goes in my pantry and will last me quite a few crumbles.

"I'm making an apple and blackcurrant crumble and, as I am trying to eat healthily can control what I put into the custard, like skimmed milk.

"With the sachets, there are all sorts of ingredients and additives – and you just add water to make it.

"It's very convenient, but not as good as the real thing. Custard should be a lovely comfort, nice and thick."
the rest of the article is here
I suppose even the best news outlets can have slow news days. Fortunately, I wouldn't know anything about that!
I should clarify here: I meant I don't know anything about being a 'best news outlet'.
Sorry! Hopefully something will arise soon before the month is out. In the meantime, have a pic of a lovely lass by the late-lamented Chestnut co. Ltd. of Japan to tide you over, cos that's the exact sort of thing you'd expect from 'Shouting etc etc'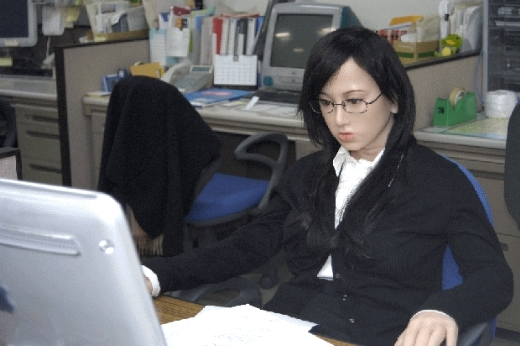 'Sure hope he's got new Doll or Synthetik news posted… wait, what the hell is all this crap about custard??'
Technorati tags: Whitstable, Kent, custard, panic