typed for your pleasure on 27 April 2007, at 1.30 am
---
Sdtrk: 'Where were you?' by the Mekons
This is so cute, it's giving me cavities.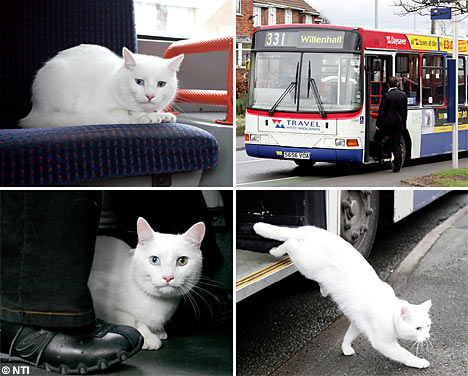 'Exact change? Stitch that, I've got a bus pass'
Mystery cat takes regular bus to the shops
Daily Mail | 9th April 2007

Bus drivers have nicknamed a white cat Macavity after it has started using the No 331 several mornings a week.

The feline, which has a purple collar, gets onto the busy Walsall to Wolverhampton bus at the same stop most mornings – he then jumps off at the next stop 400m down the road, near a fish and chip shop.

The cat was nicknamed Macavity after the mystery cat in T.S Elliot's poem. He gets on the bus in front of a row of 1950s semi-detached houses and jumps off at a row of shops down the road which include a fish and chip shop.

Driver Bill Khunkhun, 49, who first saw the cat jumping from the bus in January, said: "It is really odd, the first time I saw the cat jumping off the bus with a group of passengers. I hadn't seen it get on which was a bit confusing.

"The next day I pulled up on Churchill Road to let a couple of passengers on. As soon as I opened the doors the cat ran towards the bus, jumped on and ran under one of the seats, I don't think any of the passengers noticed.

"Because I had seen it jump off the day before I carried on driving and sure enough when I stopped just down the road he jumped off – I don't know why he would catch the bus but he seems to like it. I told some of the other drivers on this route and they have seen him too."
the rest of the article is here
I love the shot of Macavity in the top left corner. He's like 'What? What??' Plus, he's heterochromatic — he has one blue eye and one green eye. He's a David Bowie kitty!
You have to ask yourself: what would possess a cat to not only take the bus on a regular basis, but make the same stops? It's apparent that the entire concept of animal intelligence is vastly understudied. My guess is that he's saving up for driving lessons