typed for your pleasure on 13 December 2007, at 3.18 am
---
Sdtrk: 'Jackie Onassis' by Milky
Saturday! Traditionally known throughout history as a Day of Acquiring Knowledge and Stuff. And with my mates and I, that's exactly what happened!
Our Algonquin End Table this Saturday past consisted of Jeff (aka Zip Gun) Derek et Steph, and Joe (aka SafeTinspector). We convened at Jeff's digs at about 1.30, piled in D&S's van, and sped off to the wild, largely uncultured city of Dearborn, as the Henry Ford Museum (now referred to as simply 'the Henry Ford', in an effort to make the place sound 'hip' and 'with it') had something we wanted to see: they were holding a temporary exhibit entitled 'Best of Friends: Buckminster Fuller and Isamu Noguchi'. Initially SafeT told me about it a number of weeks ago, and he and I had made arrangements to see it, and Zip Gun and D&S elected to come with, as it was something different from our usual week-end fare.
On the way to the Fuller/Noguchi exhibit, we stopped to look at the car John F Kennedy was assassinated in. Upon reflection, I should've gotten a pic of myself near it, for Extra Ballard Points.
Having looked through the info provided on the Dymaxion house, we had to actually queue up for about ten minutes for a guided tour, as there were quite a few interested people there with us as well. The Dymaxion house was, like a lot of Bucky Fuller's ideas, startlingly ahead of its time. Essentially after WWII, there were hundreds of American soldiers returning home to find there was a housing shortage, while at the same time, aircraft manufacturers were laying off employees left and right, due to the decreased demand for fighter planes. Bucky Fuller presented a design that he'd been refining since the Twenties to the aircraft manufacturers that would solve both problems: by using excess aluminum material, he would retrain the employees into building homes instead of planes.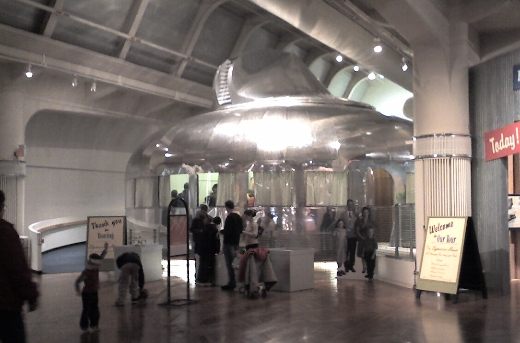 It was very ace thinking. The house was like an IKEA house: all parts were shipped in a rather large tube, and the whole assemblage took only three days to build — two days for the major assembly, and the third for installing the bathroom and electricals. As the home was built using cables suspended off an enormous central pole, not only could you raise or lower it, as it needed no foundation, but if you didn't like where you lived, you rung up the builders, they came round and broke your home down, and set the whole thing up again in your new locale. 1000 sq.ft of self-contained living, featuring a gutter that collected rainwater for later use, 'Ovolving' (vertically rotating) shelves built into the walls for clothing storage, and other such fab amenities. Very forward thinking, especially for the late Forties. Unfortunately, as per usual, the general populace wasn't ready for such a thing as kit housing, which is why the homes never went into production. The Henry Ford has one of the two prototypes in existence, and over the course of three years, restored it to its finery.
I regret not getting more pics of the house — the tour we were with probably had about fifteen people, so it was kinda cramped — but I did get this pic of the Dymaxion car, which was part of the Fuller/Noguchi tour proper, and as such, isn't a permanent exhibit.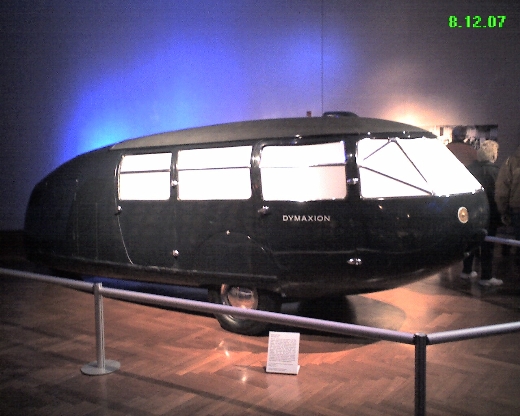 Four hours later, we made our leave. If we'd had more time, we would've gone to see the seat where Abraham Lincoln was assassinated, as well as the Oscar Meyer Weinermobile, but ZG had fatherly duties to see to. However, we made a brief stop in what passes for Dearborn's downtown district, and hit up the comic store Green brain, as we were in the area. They've got quite a selection, although I didn't see too much manga, but perhaps I just overlooked it. I did grab something that completely slipped under my radar: the trade paperback for 'The gifting', the all-new Tank girl series. When I bought it, I was a wee bit hesitant, as Jamie 'The Hewll' Hewlett wasn't the artist — too busy working with Mr Albarn, undoubtedly — but art duties were competently handled by someone named Ashley Wood. Tank girl's new character design wasn't what I was used to, as sometimes it veered from somewhat sketchy to sub-Hewll, but since Alan Martin was still writing all the stories, it was just like meeting an old friend after a twelve-year long absence. A sweary, lager-swilling, heavy-ordnance-toting friend who lives in a tank with her kangaroo boyfriend. And we all know someone like that, right?
Our purchases duly made, ZG, SafeT and I dashed upstairs to Stormy records, to see what they had on offer. My purchase there? 'Merzbear', by Merzbow. As it is, I'm gonna have to give it a good solid listening-to, as so far, it's proving to to be wildly mediocre — too much like 'Houjoue' and not enough like 'Oersted'. Masami, you're killin' me, man!
DAVECAT (flipping through the Merzbow section): 'I can't keep up with all of his releases!'
ZIP GUN: 'Who can?'
Upon getting back to Zip Gun Towers, we split our separate ways for dinnair, as unusually enough, we couldn't come to a decision as where to eat. SafeT and I filled up at Quiznos, then the lot of us (minus Steph, as she called it a day) returned to ZG's, for several unbridled hours of Godzilla: Unleashed. I still can't get entirely used to properly using those Wiichucks! This means I am old.
The end!
Technorati tags: J.G Ballard, Buckminster Fuller, Dymaxion, Isamu Noguchi, The Henry Ford, Tank Girl, Merzbow, Godzilla: Unleashed