typed for your pleasure on 22 February 2006, at 11.22 pm
---
Finally, a new one!
Sdtrk: 'Farfisa' by Stereolab
Upon your first casual glance at the picture below, you might exclaim 'HAY! You've already done a feature on the Monsanto House, you filthy layabout!' But alas, you'd be wrong. Wrong, wrong, wrong. While this structure is rather similar to Tomorrowland's late-lamented House of the Future, this would be different. For one, it was designed by a French bloke by the name of Jean Maneval. Also, the Monsanto house was nowhere near Europe. So there. Nice try, though.
So this evening, we present the creation known as "Bulle" à 6 coques, or the Six-shell Bubble House.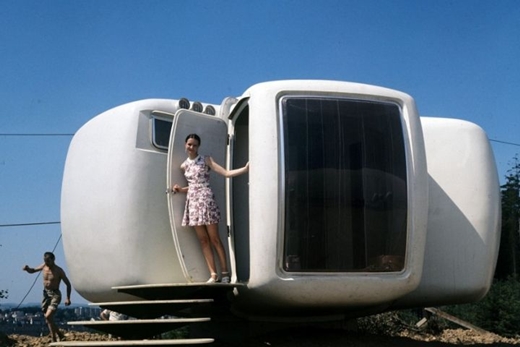 each living unit (6 shells) was easily transported by truck. the prefabricated shells were made of reinforced polyester insulated with polyurethane foam in three colour-versions: white, green and brown. the bubble blended 'perfectly' into the landscape.
quoted from this site
Aaand that's almost the extent of what I've been able to ken (in English) about the "Bulle" à 6 coques. Apart from that, the interior had its own special furniture line that fitted within the house's shells, and production ceased in 1970, after only making 30 houses.
When first reading about the detail that the homes were moulded in three different colours in order to 'blend in' with the landscape, I chuckled heartily. Ha ha! Good Job, Mr Maneval! But after further reflection, I think the idea was rather fab. You have green for a home overlooking a lush, verdant hill; you've got brown, for the homeowner situated at the edge of a forest; and you have white, for those of you who live in predominantly snowy climes. (The white ones would probably be best used as chalets.) That's Forward Thinking!
A large drawback though to the design is not so much the fact that there's not a lot of privacy — unless you live by yourself, thereby making the "Bulle" à 6 coques completely deserving of the title 'Space-age Bachelor Pad' — but they just don't seem to offer a hell of a lot of room. Hrm.
O well. I suppose you'd just buy two of them and weld them together, then!