typed for your pleasure on 20 May 2010, at 12.37 am
---
Sdtrk: 'Seed ships' by Belbury Poly
During a lull in the action at work today, I grabbed my pen and legal pad, and decided to draw a Dalek from memory for a lark. It took me twenty minutes! I don't know if that's good or bad.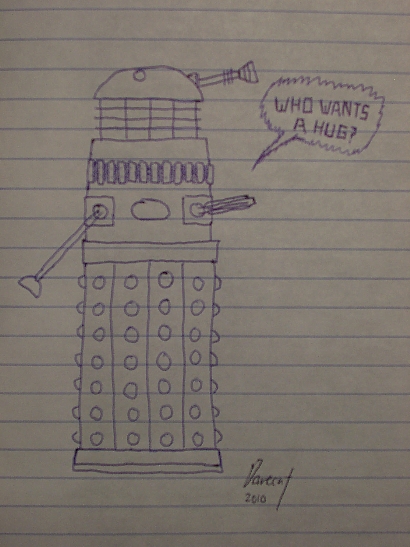 'Perspective'?? That'd just slow me down
You may be asking why it looks elongated, yet simultaneously stunted. The answer to that, my friend, is foreshortening! Yes, foreshortening.
Also, an utter lack of drawing ability.
What I like is how it gets progressively more inept the further down the illo you go. Except for the gun; I think the gun is the best detail on him. And I even managed to draw it on the correct side! But by the time you reach the bottom, it's like all bets are off, really.
You might be able to tell that I was going to draw him in profile, at least going by his dome, but Fate (and again, artistic ineptitude) had other plans in store.
I've learned you have to be careful when drawring them Daleky fellas; although I couldn't remember how many sensor globes — aka Dalek bumps — a Dalek is normally supposed to have, I knew it wasn't seven from top to bottom. I couldn't stop myself! I just kept drawing bumps.
But now I know it's only four, now that I'm home and have flipped through my well-worn copy of 'The Doctor Who Technical Manual'. Coupled with that knowledge, you can't draw your Dalek too narrow from the front either, otherwise it'll resemble something made to pleasure the ladies. Heh, now you can't unsee it!
I'm fully convinced that, thanks to this illo, the ghost of Terry Nation will haunt me until the end of my days. And with good reason