typed for your pleasure on 5 March 2009, at 12.49 am
---
Sdtrk: 'Le 4ème titre' by Christine Delaroche
It's finally March! This means two highly-anticipated things are on their way: the glorious return of McDonald's Shamrock shakes, and the premiere of Watchmen in theatres nationwide. Obviously one of these comes round once a year, while the other doesn't. Also, one is a beverage.
Directed by Zack Snyder (Dawn of the dead, 300), this would be the big screen adaptation of the graphic novel created by writer Alan Moore and artist Dave Gibbons, released in 1986. Largely considered to be unfilmable due to its use of metafiction and large portions of in-universe backstory material to bolster the narrative, the main story of the twelve issues takes place in an alternate-universe New York City round October 1985. The Cold War is still going, Richard Nixon is in his third term as President of the United States, and with the exception of two, the few superheroes that exist have been made illegal by the government in an attempt to curb masked vigilantism. After years of forced retirement, they reunite when one of their own has been brutally murdered. However, that murder soon turns out to be just the tip of the iceberg…
How's that for some compelling ad copy? Try reading that in the voice of Don LaFontaine, for best results.
I'm not a fan of traditional comics, although I do happen to dabble — namely, I borrow from my friends' libraries — but something as intricate as Watchmen goes beyond bog-standard comics, and that's due to the deranged and meticulous mind of Alan Moore. I'll not go overboard with praise for him, but I'll simply say this: HE IS NOT A GOD AMONGST MEN, HE IS A GOD THAT THE GODS WORSHIP. See? Very restrained.
Alan Moore, if you've somehow never heard his godlike name before, wrote the stories for 'V for Vendetta', 'From Hell', as well as a handful of story arcs for various comicbook titles, and is working on a new volume of my favourite of his works, 'League of Extraordinary Gentlemen'. His writing is characterised by deep character development, complex backstories, near-obsessive attention to detail, and an overall sardonic tone throughout. All the above titles were made into films, without, I may note, the blessing or consultation of Mr Moore. The film for 'League…' is something I will only watch under pain of death, for instance, as it takes awful to a stunning new level. The main issue is that Alan has been screwed over by both the comics industry and the film industry on several occasions. I'll not get into that here, as there are a multitude of other places where you can catch yourself up on the various sordid tales, as that's not what this post is about! I'm just giving you some background, here.
As of this writing (me sitting in my car Wed afternoon, waiting for my workshift to start), I've not yet seen Watchmen. I'd love to see it opening night, which is a phrase I've not uttered in years, but I'm 90% geeked over this film, as you've probably sussed by now. However, there's that 10% which I'm fearful of. That 10% is due to what I call 'the Tank Girl effect' (TGE).
Flashback to 1993, where I was reading and enjoying the living hell out of Jamie Hewlett & Alan Martin's post-apocalyptic lager-swilling anti-hero Tank Girl. Flash a wee bit more forward to 1994, where I learned that there'd be a film adaptation of the series, and picture me gettin' all happy about it. Flash forward some more to my best friends Sean, Monti, and I seeing 'Tank Girl' at Star Theatres in 1995. Now, when the film was playing, we all thought it was really ace. You had Jet Girl (rrrRowr), Booga actually resembled a kangaroo, etc etc. Now flash forward one more time, to the three of us driving home post-film. It slowly and insidiously dawned on me that what we just saw was a steaming pile of shite. It was actually really terrible. It didn't make any sense, the director took sweeping liberties with characters and storylines, and we'd pretty much wasted 100 minutes of our lives. Hence, TGE: elation that a literary vehicle you love has been made into a film, followed by crushing depression when you realise the film version is absolute spunk. Incidentally, even Hewlett & Martin have admitted that they were blinded by the glitz of Hollywood, and the movie adaptation of their character was rubbish. They even parodied the whole Hollowwood experience with the Tank Girl miniseries from late 1995, 'The Odyssey'.
Now, I managed to avoid the Tank Girl effect with 'League…' — sorry, 'LXG' — cos I'd heard various horror stories about it months before it came out. Like I'd said, so far, everything I've read about Watchmen sounds like it parallels the book — except for the climax at the end, but I'm led to understand that it's a change for the better — and the related in-universe ephemera on the website for The New Frontiersman alone is rather impressive, so at the very least, they've got the look down. With a story as fucked-up dystopian as Watchmen, though, the look is only part of it…
So I'm remaining uncharacteristically optimistic regarding a film from Hollywood. I'm keeping my fingers crossed, but as it's Hollywood, I'm trying to keep my expectations low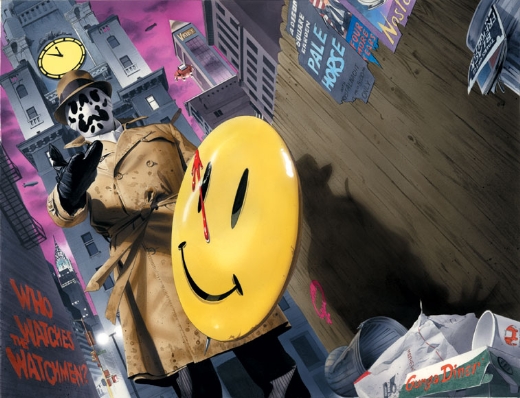 You keep littering like that, pal, they'll catch you and throw you in prison
EDIT (22 March 09): I, ah never did mention that I finally saw it, did I? You can read my half-arsed review in the comments here
Technorati tags: Watchmen, Alan Moore, Dave Gibbons, Zack Snyder, Don LaFontaine, Tank Girl, Jamie Hewlett, Alan Martin