typed for your pleasure on 8 December 2008, at 5.15 pm
---
Sdtrk: 'Heart and soul' by Joy division
Our top stories this month *cue sfx of either morse code or typewriters*:
+ Abyss Creations have got a new news section on their website, entitled 'The Doll Street Journal', wherein they post notices of discounted RealDolls for sale, or various deals on offer, or clearance items, etc etc. Plus, they have a Doll of the Month feature, where a silicone lass at the factory details a few things about herself (it reminds me a bit of seeing adverts for cats and dogs up for adoption). This month's instalment is the second one out, so catch yourself up on the News page of the site…
+ Orient industry has finally released a number of photos of two of their sexy new Real Love Doll Ange girls; the Sora-type, and the Rie-type.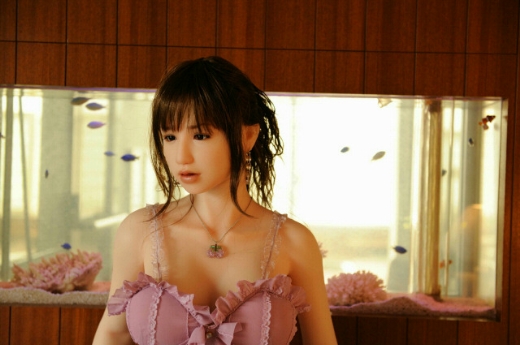 Sora-chan, after being told her sushi came from that fish tank behind her
While we're hoping that the company will post pics of the other four models of Dolls in that line relatively soon, you can hit up 'Ta-bo's Kisekae Dataroom' in the interim, and check out his photo-reports taken in Orient industry's Tokyo showroom.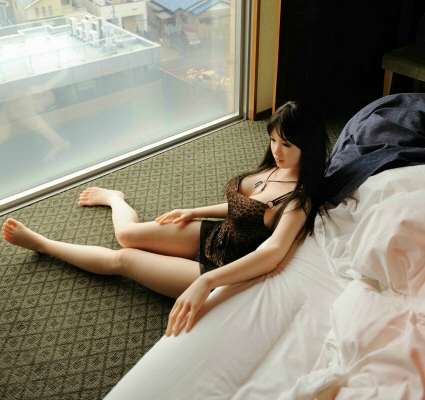 Rie-chan thought sitting in front of her seating made her
look more 'artsy'. Actually, it just made her look drunk
Personally, whenever Ta-bo-san does those reports, I always get the impression that he's window-shopping for yet another addition to his staggering collection as he does so. Which is more than likely the case…
+ 4woods is back to work! As if they'd ever stopped. Not only have they unveiled a cute new head, Kurumi, for the A.I.Peach line, but they've also developed an alluring new body type as well, known as the A.I.Doll Evolution.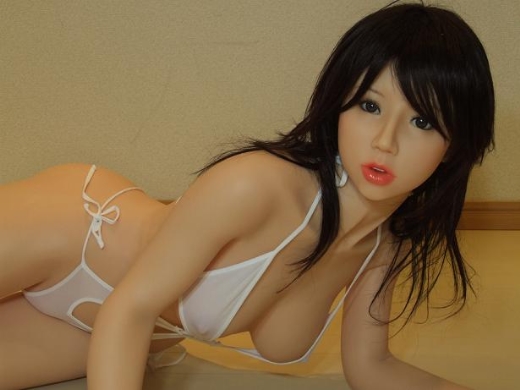 If Doctor Who's Dodo Chaplet was turned into a Doll and joined Morning
musume, this is what she would look like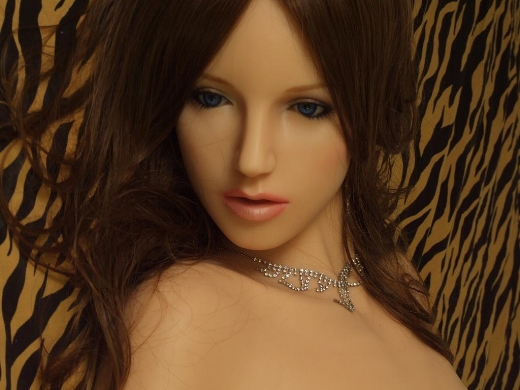 Like Kate Moss, but much less expensive
Now, as the seductive Mia has a definite Caucasian facial styling, it could be argued that 4woods is aiming for the non-Japanese market, much like Cindy and Maria of Axis Japan's Honey Dolls line. Well, there's a reason for that, which I'm leading up to; don't rush me.
Personally, Kurumi's only okay in my book — she looks a bit too… chirpy. But as you're aware, two exact same models of Doll can look radically different, depending on hair, makeup, lighting, photography, overall personality, etc. For instance, the Missus and her nymphomaniac cousin Charlie Joanne are both Body 2, Face 4 RealDolls, but the difference is like night and day. Which is entirely appropriate, if you think about it. Maybe when I see some owner pics of Kurumi, I'll change my tune.
Mia, on the other hand, gets my full Seal of Approval. The A.I.Evolution is apparently the culmination of seven years of 4woods Doll developments (has it really been seven years??); she's 5'4″, weighs 71 lbs, and her measurements are 35.25.37. Huh! 'The wider spread of legs, better touch/feeling while being intimate, attention to small detail on each body part, an existence you can almost feel her breath… You can find these characteristics in our evolved A.I doll,' boasts the site, and I'm certainly willing to believe that.
+ Back in November — on my birthday, coincidentally enough — KnightHorse, Matt Krivicke & Bronwen Keller's new company, opened its virtual doors. Introducing: Lovable Dolls. Or Loveable Dolls; I'm not sure which spelling they'll end up with.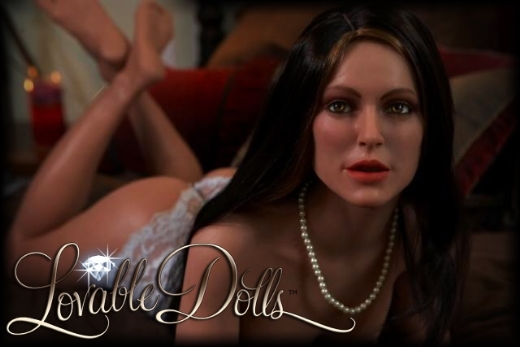 Comes shipped with romantic ambience; candle and pillows sold separately
Ripped from the pages of a popular forum that handles this sort of thing:
Yvette shown here is 5'3″ tall, her measurements are 32A-22-30 and she wears a size 7 shoe. She weighs approximately 65lb. She has a removable head designed with a system that allows you to easily change her eye color and position the eyes without damaging the eyelashes. We use beautiful handmade eyes in each doll. The eyes are available in 9 gorgeous colors that reflect light in a beautifully realistic way. She is available in 7 different skin tones ranging from very fair to very dark, and she is made of premium grade platinum silicone. You will be able to order Yvette with all the options offered by the other high end doll companies, plus a few extra.

Yvette can be purchased with built in entries or with a removable insert. She is fully posable and jointed. We have been very fortunate to establish an exciting partnership with 4Woods of Japan; we are using a skeleton based on their design, and we will be their USA affiliate for people who would like to purchase 4Woods dolls. We will also be offering maintenance services for 4Woods within the USA. They, in turn, will be marketing our dolls in Japan.

Our base price for Yvette is $5,500 + shipping. […] We hope you love her as much as we do!

Best wishes,
Matt Krivicke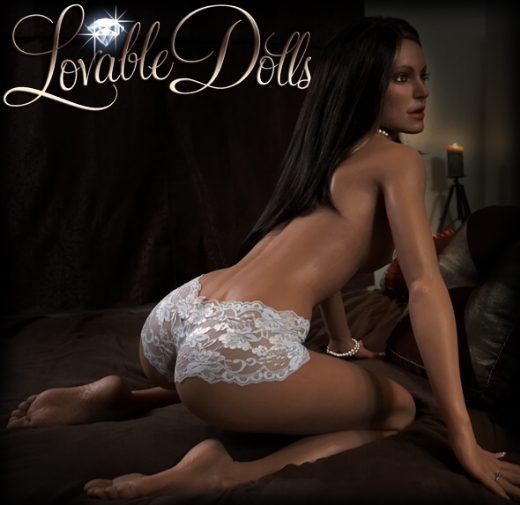 No snappy caption here; too busy drooling over Dollfeet
From the pics I've seen of Yvette (the company plans on releasing additional models over time), she's scarily realistic. And I mean that in the best possible context!
If her particulars aren't enticing enough, Matt K & Bronwen also state on the site's FAQ that not only are they willing to repair any of their Dolls at their aptly-named Doll Hospital should they require repair, but they say they can give a go at repairing other manufacturer's Dolls as well, which is a boon since Slade, the RealDoll Doctor, is no longer practising. I've gotta say, that's a hell of a standard that they'll be establishing for all Doll makers. KnightHorse's gorgeous lasses will definitely be something to keep an eye on in the next coming months…
And it looks as if Japanese audiences will finally be getting the chance to enjoy 'Lars and the Real Girl' later this month! Wonder why that took so long?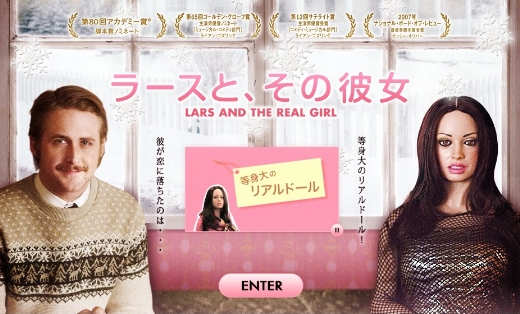 That's the least-withdrawn Lars has ever looked
There's a couple of pics in the News section of Bianca — well, a Bianca; everyone knows there's more than one — taking in the sights of Tokyo, which is rather charming.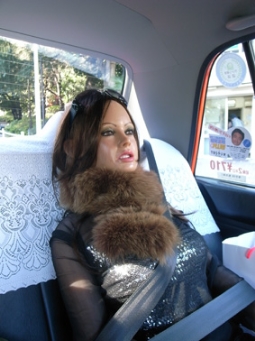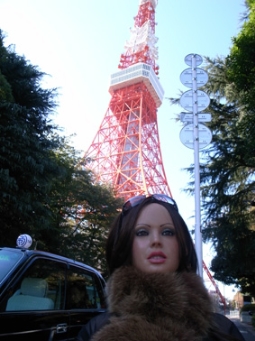 She's not big enough of a star to warrant a limousine, apparently
What with Japan being a nation that is not as averse to the concept of either passive or active Synthetiks, one wonders what the overall reaction will be to this film? Do let us know, Japan!
And there you have December!
'Shouting to hear the echoes'. More Doll news than you can physically handle, so we suggest employing some sort of large container to prevent spillage
Technorati tags: Abyss Creations, RealDolls, Orient Industry, CandyGirl, 4woods, A.I.Dolls, Axis Japan, Honey Dolls, Charlie Joanne, KnightHorse, Lovable Dolls, Lars and the Real Girl, ラースと、その彼女, リアルドール