typed for your pleasure on 4 November 2008, at 7.35 pm
---
Sdtrk: 'Amour, vacances et baroque' by Paul Piot & Paul Guiot
You might find this hard to believe, but I used to be a lot more cynical than I am now, at least when it came to politics. You could encapsulate my feelings about the voting process in a bumper sticker: 'Don't vote, it only encourages them'. However, since the Second Reich of George W., I changed my thinking to, 'if you don't vote, you have no-one to blame but yourself'. Well, myself, and everyone who deliberately votes for bigoted stupidity. So I voted in the last election, and I sure as fuck voted in this one.
They let us out fifteen minutes early at work, to allow people to get to the polls that much quicker. From the horror stories I was hearing from coworkers about lines wrapping round the block at the polling stations, I steeled myself for a two- to three-hour wait. Which wouldn't have been that bad, as I had my .mp3 player, and I was going to use my Treo to finish up a couple of Emails. To that end, I was partially disappointed when I saw there were plenty of parking spaces at my precinct, as well as a complete lack of lines, when I arrived there at ten after five. I think if it were later in the day, it would've been more worrisome — I was one of seven people voting at that time — but I reasoned that at 5pm, most people would've been exiting their places of work at that point. I beat the rush!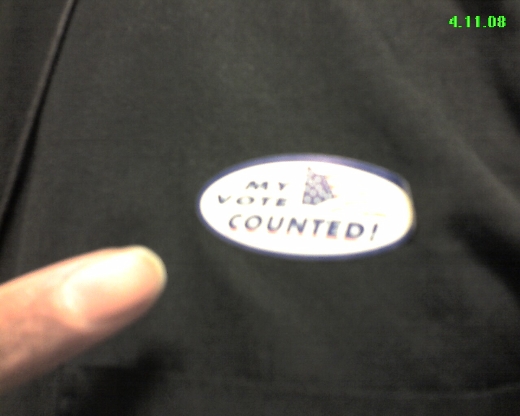 Blurry, but you get the idea. Incidentally, I was voter no.361 in my precinct
All told, the whole process felt pretty good — I felt like I wasn't just throwing my vote away.
You can do it, Brak O'Bama! If you won in the 7-Election polls, victory is assured everywhere else!
EDIT (11.40 pm): WOOOOOOOOOO