typed for your pleasure on 7 November 2008, at 12.38 pm
---
Sdtrk: 'th case fr public organisation' by The new lines
Why yes, I say; a bollockload! Yet another Synthetiks developer has entered the open market; this one from Hong Kong. It seems to be less of a staff, and more of some bloke, but his their company is called the Hong Kong Human-Robot Center. Currently, they have two models available — the Gynoid F1, and the Android M1, who happens to look exactly like the company's head roboticist. Admit it, you'd make an Synthetik duplicate of yourself if you had the means to do so. There's some footage of F1 on the site proper, and man, is she blabby.
The robots of M1 and F1 were life-casted from the inventor directly. We use a new life casting technology and our created materials to simulate human skin, the elasticity and the skin color. If the make-up technology is combined, the simulation is higher.

The inner structure includes simulated bone 、mechanical joint、special servo motors and central unit etc. The central unit has built-in MCU with our developed special program which can control 16 different directions of servo motors at the same time、 DTMF system and 3G mobile etc. The robot is operated by using batteries without air pump connected, also provides power safe mode. We will continue to increase the activity joint and the function of the Human-Robot and make it to be more perfect.

The movement of the robot can be remote-controlled by telephone with correct password entered. You can hear the nearby sound of the robot on the phone, talk and move through the robot's mouth, and watch the surrounding of the robot if 3G mobiles are used. It also provides the automatic mode and manual mode for your selection to control the robot. Voice/pattern recognition system, or optical motion capture system can also be applied for human-robot. […] We offer low price and accept custom-made order, rental, any collaboration for robot development / training couse.
Going from the above paragraphs, they're definitely aiming high. I mean, their claim alone of being able to control your Synthetik through your phone, as well as using him or her for a telepresence, is a bold one, but could you imagine the ahem teledildonics ah-hem potential? That's some serious Ghost in the Shell-type stuff there — being able to speak and act through a proxy body. Fantastic idea, actually. Of course, I would suggest the company hire a better sculptor, especially if they're fulfilling custom orders, as the F1 model is a wee bit… lacking in aesthetics. Onward and upward, though — good to see another individual having a go at getting more Androids and Gynoids into society! I sent him an Email enquiring about his work, but I've not heard from him yet. I blame the language barrier.
On the Doll front, overachieving Japanese Dutch wife manufacturers Orient industry plan to release a couple of products round Xmas, such as a thermo-blanket for your CandyGirl, a USB-based 'hole warmer' (it's exactly what you think it is), and yet another new model line, called Real Love Doll Ange; one of their lasses would be pictured below.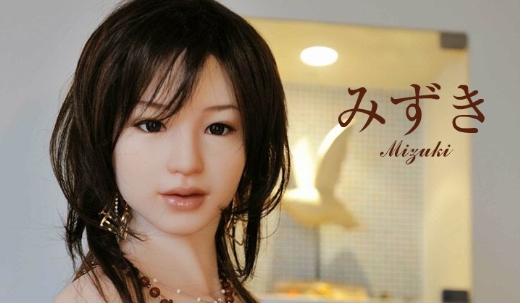 To be honest, she kinda looks a bit high-maintenance
She's a wee bit over 5 ft tall, weighs in at 53 lbs, and has two body types: the B-cup size (30.22.34), and the E-cup size (33.22.34). This line not only seems to have the most realistic sculpting out of all the CandyGirls to date, but unless it's due to smoke and mirrors, it appears she can stand as well. Yummy. More details as they unfold…
As it's a new month, Phoenix Studios is maintaining consistency again, by releasing Miss November out into the world. She would make an incredible Xmas gift for a lucky someone! Or Hanukkah, for that matter.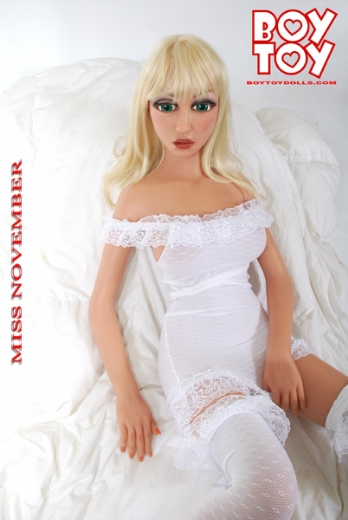 'If you squint, I disappear. That's my superpower'
She looks like an icy lass, but approachably icy. Upon further scrutiny, she resembles a less-Gothic Dame Darcy, creator and artist of the lysergic neo-Victorian comic series Meat cake. Maybe someone should buy a Miss November, and make her up to look like Dame Darcy. Strap a tiara on her head, put some butterfly wings on her, hand her a banjo, "Bob" is your uncle. *nods approvingly*
Also, Miss Autumn, another one of the luscious Seasons models, is making her debut.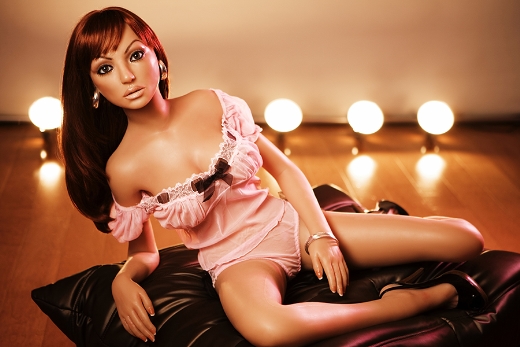 Her earrings look heavier than she is
As savvy followers of iDollator culture will undoubtedly note, her photoshoot was done by the fabulous Stacy Leigh. What, Miss Autumn's makeup and the background didn't tip you off?
Two more Seasons Dolls left! I'm still scratching my head as to what Phoenix Studios' gameplan will be after Miss Spring is released next year. Perhaps that's precisely how they want it…
Back on the Gynoid tip, there's a new anime series currently airing (although it has a nail-biting release schedule of one episode every two months), that centres round the sociopolitics of Androids and Gynoids in a near-future Japan. It's entitled 'Eve no Jikan', or 'Time of Eve', and as Mari and I viewed the first two eps last Friday eve, I'll inflict a review of sorts on you lot in a post or two…
And finally, as it's my birth month — woo and yay Scorpio — I'll note here that I'm playing to type, and I'd love to have this bumper sticker, designed by rstevens, of Diesel Sweeties fame.

Just putting that out there, y'know
Technorati tags: Android, Gynoid, robots, Orient Industry, CandyGirl, Phoenix Studios, Boy Toy, Dame Darcy, Stacy Leigh, iDollators, Eve no Jikan, イヴの時間, Time of Eve, Diesel Sweeties