typed for your pleasure on 4 June 2008, at 1.43 pm
---
Sdtrk: 'October language' by Belong
This was located by the vigilant staffers at SpurtBOT: AI Robotics is a website where you can choose and order your very own Gynoid named Lisa. Whoa, whoa there, bunky! Don't get your hopes up, and you can put your chequebook away, as unfortunately, the whole thing's about as legitimate as Borghild, the legendary Nazi Doll. Yeah, I know, I was bummed out about it as well.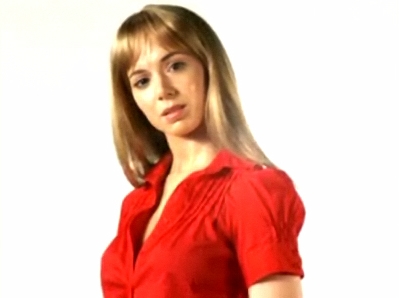 'Sorry, I don't actually exist! Keep saving up, though!'
It's a reasonably convincing jape, though. There's interviews with the creators, testimonials from happy customers, an online ordering page, etc. I do like this bit in the interview, however:
For whom did you design the perfect woman?
Etienne Fresse: Lisa is a substitute for a real woman. She has been designed for all men who have not found their soulmate, who would like to have company when they get home in the evening and who would like to have someone who cares for them.

Why did you decide to sell Lisa on the internet?
Yoichi Yamato: Most of all we wanted to "democratize" robots. We wanted to give as many people as possible the opportunity to benefit from cutting-edge technologies, to make their daily lives a little better.
Hoax or not, they've definitely got the right idea…
They say that imitation is the sincerest form of flattery. With that in mind, have a look at the short film 'Creative Director Doll'. If you've seen Nick Holt's 'Guys and Dolls' — and who hasn't?? — some of those shots and lines of dialogue will be awfully familiar. It got a hearty chuckle out of me, anyway!
We're halfway through 2008, and once again, Phoenix Studios is maintaining their sexy silicone standards, with Miss June, out now. Shi-chan and I approve!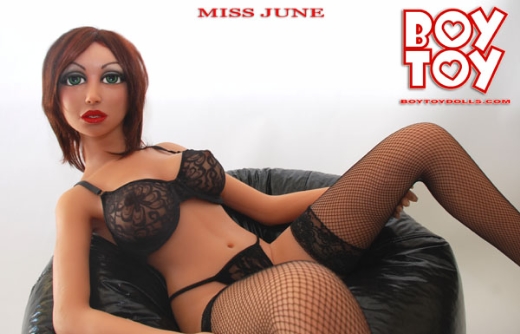 If it's too warm in there, her thighs will stick to that bag when she stands up
I dunno; I believe I have a new favourite Boy Toy model… I think it's that red hair of hers. Mmm, racy!
And have you read fellow iDollator PBShelley's review of 'Lars and the Real Girl'? I think you should.
A good example of how the dolls serve the observers' imagination was shown when Karin begins talking to Bianca about her job, and how the townspeople used Bianca to provide them with what they wanted, a librarian, church member, even a mirror for their own beliefs as to how a woman should be treated. A doll (any doll) is a toy for the imagination; or, you might say, a tool. And a fertile imagination is a good thing
More iDollator-related news later! There's another Doll Congress I must attend next week-end! I missed the last two, and if I don't hit this one, they'll revoke my status
Technorati tags: AI Robotics, Gynoids, Borghild, Phoenix Studios, Boy Toy Dolls, Creative Director Doll, Nick Holt, Guys and Dolls, documentary, iDollators, RealDolls, Lars and the Real Girl