typed for your pleasure on 24 March 2008, at 8.54 pm
---
Sdtrk: 'Les mains dans les poches' by Les Roche Martin
Back in the spotlight! Yesterday, I spent a pleasant 40 minutes on the phone with Josephine Tovey, who was writing up an article about RealDolls for the Sydney Morning Herald, mostly due to the fact that Australia (and the UK) will finally be screening 'Lars and the Real Girl' in the next couple of weeks. She wanted the views and opinions of an iDollator, in regards to the film and being a Doll husband and things of that nature. So she asked me, for reasons I cannot fathom. I know nothing of these 'Dolls'! My silicone-based wife was shipped strapped securely into a wooden crate, after sixteen weeks of painstaking sculpture and assembly, just like anyone else's.
It should be on their website as well as in print, but Josephine said it should be hitting the stands on 5 April. Now, I'm aware that that's the same day the new series of Doctor Who starts up, but don't let that distract you; you can always TiVo it.
Also, 4woods comes through again! They have a new model — well, a new head, really — due out very soon; a charming NEO-J-type named Ally.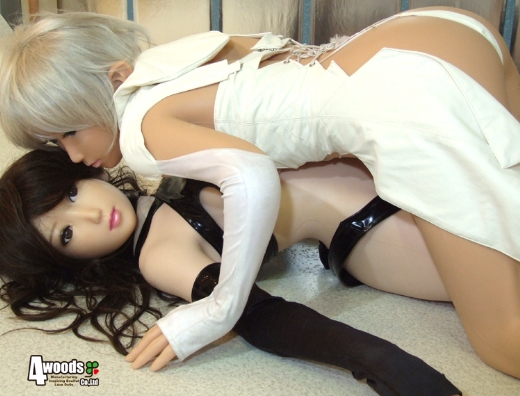 Ally v. Ally IN THE STEEL CAGE MATCH OF THE CENTURY
She looks a bit like Neu, but even more elfin, if that's even physically possible. You can get her in either 'Natural' or 'Asian' skintones (as seen above), and much like the Neu-types, you can swap out the pointy ears for regular ones. Rather nice!
So there you have it. New interview, new A.I.Doll. Two things for everyone to look forward to