typed for your pleasure on 8 November 2007, at 1.05 pm
---
Sdtrk: 'Allures' by Stereolab
So Tsukihime and I finally caught 'Lars and the Real Girl' at a sparsely-attended matinee this Sunday past, and I have to admit that it was actually better than I thought it would be. As you'll recall, I had some initial misgivings about the concept of a big-budget Hollywood film handling the concept of Dolls and iDollators in a sensitive manner, but all told, the end result was largely inoffensive.
As I didn't have a notepad on me at the time (the theatre was too dark) and using my Treo would've been awkward (the screen was too bright), here's my recollection from various fragments that I can remember:
+ Bianca arrived at Lars' in only six weeks time. Potential Doll owners: be forewarned that this film is a work of fiction. Six week turnaround time?? Heh, if only…
+ Someone reviewing the film had waggishly described it as 'Capra with creep factor'. Ignoring the C-word, I'd have to agree. Lars acquires his Synthetik girlfriend, and the whole town is persuaded to go along with it. As lovely as that idea is, it spins the whole film into the realm of pure fantasy. On the other hand, it's hardly as if I expected it to be a documentary… Even if it is fictional, it's a nice change to see people rallying behind an iDollator, as opposed to crossing the street to avoid him.
+ In certain scenes, it was noticeable that Bianca wasn't an ordinary Doll weight — there's a part where Lars is walking through some woods with her piggyback, and I'm sorry, that shit's nigh-impossible to do with a typical Doll. Movie Magic!
+ A couple of things that made me chuckle: Lars' cubicle mate, a weedy fellow who reminded me visually of Gareth from 'The Office', showed Lars the site that sold the Dolls. The layout was like Abyss', yet not Abyss'.
Shortly after, Lars asked his coworker if he would be placing an order for one. 'I would,' he sighed, 'but I just got the new XBOX.' Tch! Where are your priorities, sir??
+ As a Doll husband and advocate, I have to say that this film had a severe lack of naked Bianca. Seriously though, it's good that there wasn't any focus on the sexual aspects of Bianca and Lars' relationship, as the film could've very easily slipped into a lowbrow American Pie-type sex farce, with Bianca as a prop — I'm rather glad that scriptwriter Nancy Oliver chose not to go that route. The way she drew up the character of Lars is that he saw Bianca as a companion first and a sexual partner second, and to be honest, their sexual relationship wasn't even mentioned. Which is again good, as it reinforces the concept that Dolls aren't merely for sex.
+ Continuing in that particular groove, the film's central point is that having a Doll in one's life (depending on the type of person you are, of course), can be very theraputic. Before Lars learns about Dolls, you see him in the opening scenes of the film: he's isolated in a cold grey room that contains little stimulus or joy, and a crushing sense of depression. After Bianca arrives, his life doesn't exactly do a 180, but he's noticeably less maudlin. He takes her places, sees things with her… he has someone to enjoy life with. Not to get all Hallmark-y, but Bianca is a key that unlocks the doors to Lars' life.
Gods, that sounded rubbish. Strike that, reverse it. But you know what I mean.
+ I'm sorry; even though Ms Oliver undoubtedly drew from many sources during her research for her script, I would have to say that a large part of Lars is based on me, and another part is based on Everhard. Half-Danish, half-Brazilian Bianca has a detailed history, much like half-English half-Japanese Sidore does, and despite his mother's passing, Lars still has a tremendous affection and attachment to her, much as Everhard does. Yeah yeah, I know, I bet you think this song is about you. Don't you?
+ And I have to say that the scene with Lars dancing with Bianca in his room, brief as it was, was incredibly touching. When fellow iDollator Mahtek first told me that, thanks to the hanging suspension stand he bought for his girls, he can actually dance with Phoebe or Penelope, I knew that he was a luckier man than I.
So in summation, 'Lars etc etc' turned out to be much less of a grand disappointment than I thought it would be. The ending was almost what I'd expected — Hollowood's everywhere, you can't get away from it — but as a Doll husband, my sensibilities were not offended. Even Tsukihime, whose only exposure to Synthetiks is through me, enjoyed it as well — she admitted there were a couple of scenes where she was tearing up, but then, she's a softer touch when it comes to that sort of thing…
The only negative point I have to say about it, really, is that since Lars was kinda messed up before Bianca entered his life — his extreme shyness and near-clinical fear of being touched comes from his mother having died while giving birth to him — the casual viewer might say 'well, he's got a Doll, so he must be a loony', when the only thing Bianca has to do with his mental condition is improving it. My worry is that most people, unless they watch the film with an open and attentive mind, won't make that distinction. But like I've said, at least it's not 'Love object'.
Ms Oliver, you are henceforth spared my wrath (pronounced 'roth'). So when's the DVD due out?
And that concludes 'Shouting etc etc's coverage of 'Lars etc etc'! In all honesty, even I was starting to grow tired of making mention of it in every other feckin' post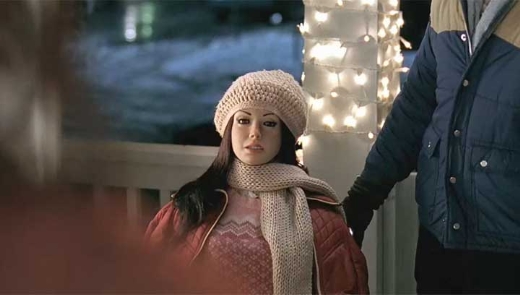 Did her mum knit her that hat and scarf combo?
Technorati tags: Abyss Creations, RealDolls, iDollators, Lars and the Real Girl