typed for your pleasure on 23 May 2007, at 11.23 am
---
Sdtrk: something from the Otogi sdtrk
In looking over a recent set of stats for visitors to 'Shouting etc etc', I'd spotted the efforts of some poor misguided tosser's search: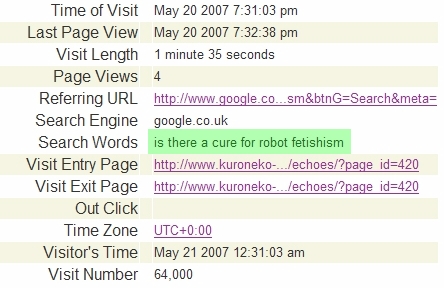 Gods, how I laughed. A 'cure' for robot fetishism?? What good could possibly become of that?? Their silly question aside, that individual couldn't have been looking in a more inappropriate place…
In light of that, Sweetie's got another couple of videos uploaded o'er on her Dailymotion page for your perusal, the link being nestled atop this site beneath the title banner, as per usual. Yes, you have to register in order to see them, as all of the clips are considered 'explicit content' — despite the fact that 'explicit' apparently means 'look out: bOObies', and most of the clips don't even feature that — but at least it's not YouTube.* Happy 23rd!
*Is it just me, or has anyone else noticed that if you consistently read YouTube comments, you can actually feel yourself losing IQ points? Not since the heyday of AOL have I seen a larger confluence of misspellings and general shitwickery. And that's saying a lot