typed for your pleasure on 9 May 2007, at 5.32 pm
---
Sdtrk: 'Papercuts' by Broadcast
By my own admission, I'm not altogether keen on most modern (i.e., anything after the mid-Nineties) art, but this is a notable exception by Chinese artist Cai Guo-Qiang that I spotted on the Random board of WAKAchan: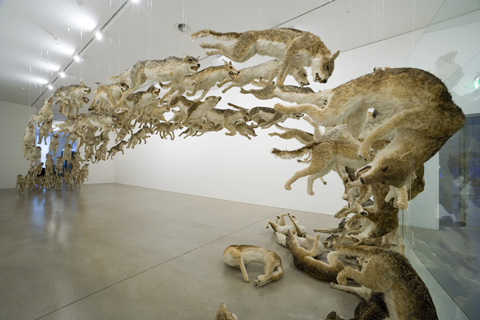 AWHUMPA thumpa thump thud arf etc
The wolves were produced in Quanzhou, China, from January to June of 2006. The commissioned local workshop in Cai's hometown specializes in manufacturing remarkable, life-sized replicas of animals. First, small clay models were created as movement studies, out of which Cai subsequently developed Head On's artist editions of cast resin wolves. However, the realistic and lifelike 99 wolves that grew out of these models and drawings possess no literal remnants of wolves: they are fabricated from painted sheepskins and stuffed with hay and metal wires, with plastic lending contour to their faces and marbles for eyes.
taken from this article
Seems that when he's not having RealWolves colliding with glass panes, he works a lot with pyrotechnics or gunpowder, as evidenced on his site on Artsy.net. These are concepts I can get behind!