typed for your pleasure on 8 April 2007, at 12.36 pm
---
Sdtrk: 'Jinxed' by The Aluminum group
Well, I for one am certainly encouraged!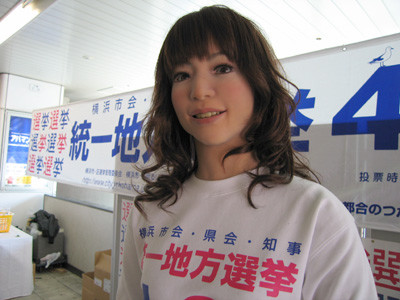 Robot woman encourages turnout for local elections in Yokohama
Mainichi Daily News | April 9, 2007

YOKOHAMA — A humanoid robot designed to look like a young woman was a popular attraction at a department store here on Thursday as it called for voters to participate in nationwide local government elections.

The robot, named Actroid, appeared in front of the Sogo Department Store in Yokohama's Nishi-ku.

The Yokohama Municipal Election Administration Commission planned the robot display to educate voters, as turnout for the unified local elections in Yokohama has not exceeded 50 percent since the start of the Heisei era in 1989.

The robot's eyes and mouth move, along with its cheek muscles, and it even has veins in its legs to make it look real. The robot left at least one customer tying to sort out whether or not it was a real person.

"It's a real human, isn't it?" the customer asked.

Hopefully voters won't have as much trouble sorting out the candidates during election time.
Hell, get me round to Yokohama; I'll vote for whoever had the foresight to employ her.
That's how they'll get all of us Technosexuals — the worst party to vote for in the world will say 'Hey, vote for us! We have Androids and Gynoids!' and we'll be like 'Fuck yeah, there's Gynoids at the polling booths WOOO', and months after that party has won, we'll all be made into Soylent Green or something similar. 'Know your voters' is the lesson to be learned here…
Not to harp on this point, but someone please put her in sandals and get some pics, even if it's just for one day! If I can't see how her feet look at least once, I will be vastly disappointed in the Universe
Technorati tags: Actroid, Repliee, Android, Gynoid, Technosexual