typed for your pleasure on 15 April 2007, at 10.25 pm
---
Sdtrk: 'Underground library' by Moon wiring club
Apparently the architects of Singapore like to play fast and loose with Mistress Fate. Observe: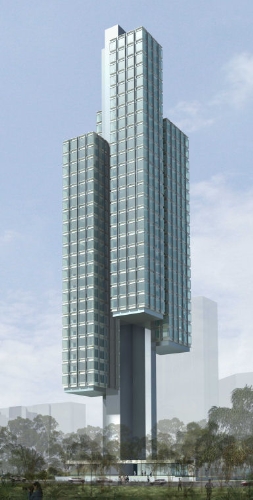 *facepalms*
Far East Organization, Singapore's largest private development company, has commissioned the Office for Metropolitan Architecture for OMA's first architectural project in Singapore – a 36-storey residential high-rise. […] With 20,000m² of built floor area, the building will provide 68 high-end apartment units with panoramic views. The design strategically maneuvers within the highly regulated building environment to maximize the full potential of the site: Four individual apartment towers are vertically offset from one another and suspended from a central core.
taken from this site
I have to be honest — this proposed Scotts Tower looks rather fab, but it also looks like a Seventies disaster film just waiting to happen.
"THE SCOTTS TOWER CATASTROPHE"
starring
Peter Fonda
Suzanne Somers
Dick Van Dyke
Dyan Cannon
Avery Schreiber
and Gig Young as "Paddock"
© 1973 A QUINN-MARTIN PRODUCTION
Nice place to visit, wouldn't want to live there, that sort of thing. There but for the grace of god go Singapore, I guess…
Also, if you recognise any of those names in the film cast, you're too old
ta very much to KrazyQ for the tipoff