typed for your pleasure on 11 May 2006, at 9.50 pm
---
Sdtrk: 'Choking on air' by The ladybug transistor
YouTube and the current trend of using Shockwave-based video is both a boon and a curse. On the one hand, when you want to display a video, you don't have to go through as much malarkey to do so — just upload the bastard to YouTube/Google video or wherever, pop a link on your site, and Bob's your uncle. On the other hand, a lot of sites are doing away with providing downloadable video entirely, in favour of… well, uploading the bastard to YouTube/Google video or wherever. What about those of us who'd rather download the actual .avi or .mpg or what have you? Hm?
So this is my current problem: I've found a video of EveR-1 on Akihabara News, but of course, it's in that damnable Shockwave format. I've got the link to the homepage of KITECH, EveR-1's manufacturers, but everything's in Korean. Crucial note: I know zero Korean. Do you see my problem? Do you?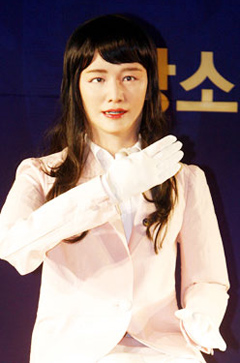 [03.15.18 PM] safetinspector: Which would win in a fight? EveR-1 or Actroid-chan?
[03.16.28 PM] Leahtype23: Hrrm.. I'd have to go with EveR-1.. her arms are a little stiff. She probably has a good karate chop.
Unless we're talking tickle fight, in which case, my money's on Actroid-chan.
Next week: thrill to me bitching about sites that have Flash video image galleries, instead of proper downloadable .jpgs. 4woods, I'm looking in your direction
Technorati tags: EveR-1, Gynoid