typed for your pleasure on 9 March 2011, at 4.23 pm
---
Sdtrk: 'Reader meets author' by the Smiths
Recently, Deafening silence Plus took a bold step forward and entered the 21st Century. That's right — we now have an XBOX 360! I kinda had to purchase one, as a couple of mates gave me games for it this past Chrimbo. There's currently a small but growing cluster of games in my library — Space invaders: Infinity gene, Pac-man Championship edition Deluxe (blame SafeT for getting me addicted to those two), Bayonetta (of course), Bioshock 1 and 2, and Lost planet 1 and 2 — plus, Zip Gun lent me his copy of Bladestorm, which means I'm entirely overstimulated. Honestly, in order to get away from the insidious clutches of that foul machine so that I could write this post, I had to use Sidore as a sacrifice; she's playing Bayonetta right now, so I'm not. I knew there was a reason I got her in the first place!
So a number of Saturdays ago, goshou and I did a wee bit of shopping for vidyagaemz. Neither of us managed to find anything that we were looking for, as either the shops we hit were out of stock of what we wanted, or their prices were patently outlandish. However, the most outlandish thing by far we'd seen had to have been this: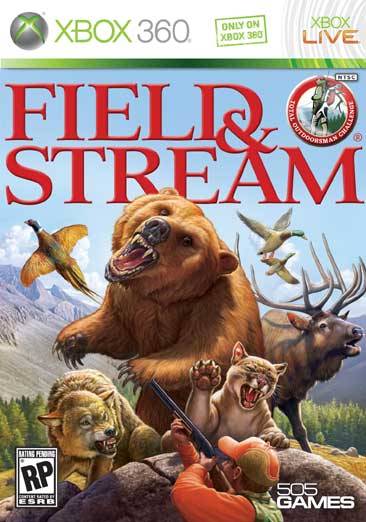 Frankly, the pheasant's the most dangerous of the lot
Seriously, what in the living hell am I looking at? Now, I don't play hunting videogames, as they're hunting videogames, and I can't think of a genre that's more rigidly boring, except for perhaps golf. Or Drying Paint: The Game. Obviously I'm not the only person who thinks that way, which is undoubtedly why Field & Stream, wanting to drum up sales, had 505 Games' art department design a compelling, attention-grabbing cover. Having said that, how much do you wanna bet that the scenario depicted on the box art never comes close to taking place in the game? That's FALSE ADVERTISING. However, I could be wrong — that could be a boss battle.
Here's an idea that might widen the fanbase of the hunting game genre: I've noticed that with the advent of the next-generation series of game consoles, such as the extremely popular WiiStation 720, people seem to dig the whole player-vs-player online experience. Why not… why not apply that experience to hunting games?? One team plays a solitary human player, or, if you like, a small hunting party of no more than five humans, and the opposing team is Team Wildlife. Players on Team Wildlife can select from different animals, which would naturally have various attributes. Choose the Elk, for swift its hit-and-run tactics! Choose the Grizzly, for its brute force attacks and fearsome roar! Choose the Cougar, for frequently tanning, cruising clubs, and hitting on blokes much younger than yourself! O, wait.
But yes! It's an idea so revolutionary, that it revolves. Any hunting game developers that want to get in on the ground floor of this action — which would be all of you, if you know what's good for you — you can get in touch with me via my Contact page. Please have chequebook ready!