typed for your pleasure on 18 April 2010, at 7.36 pm
---
Sdtrk: 'Electric seance' by Pram
Next time you happen to find yourself southwest of central London, Engerland, why not make a detour and visit the town of Frimley? I was going to say 'make a brief detour', but after spotting this beauty, it's odds on that you'll be there for a while.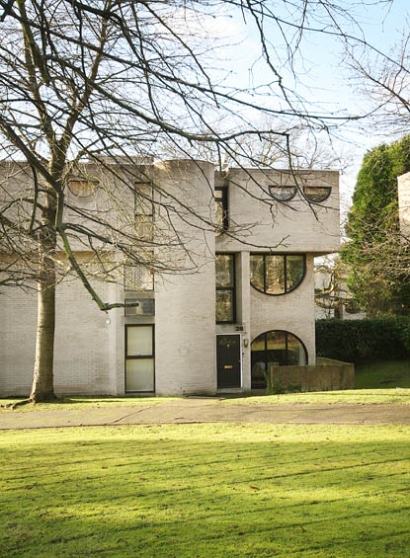 Designed in 1966, the house contains three bedrooms, a reception room, a kitchen / breakfast room, a courtyard, and a single garage. But there's only one bathroom for all three floors?? That's probably going to cause more problems (read: fistfights) than it'll solve.
What I particularly like about the property is that the exterior resembles some sort of futuristic Modish castle; that's undoubtedly due to the half-circle windows and the cylindrical whatever-the-hell-that-is on the front of the building. When you think about it, it kinda fits, though; after all, what do they say a man's home is?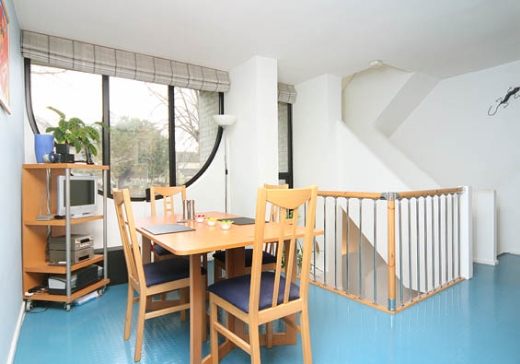 It's ace in and of itself that a house like this exists, but even more fantastic is that there's actually a group of houses that all look like that — thirty-two, in fact, all in the same neighbourhood. And as I'd found this place as a listing on The Modern House Estate Agents, you'll be interested to know that it's currently under offer, so although it may be bought or rented out soon, on the other hand, it may not. And does that offer apply to all thirty-two of the buildings? Cos that'd be a hell of a deal