typed for your pleasure on 21 July 2005, at 5.50 pm
---
Sdtrk: 'There's nothing' by the Shout out louds
For this volume, this chapter, this segment, this episode, this instalment, of 'This was the Future', we go back further than the usual subjects from the Sixties, all the way to cover a building constructed in the late Thirties. This would be the Johnson Wax headquarters, which still stands in Racine, Wisconsin, and was designed by a then-69-year-old architect known as Frank Lloyd Wright.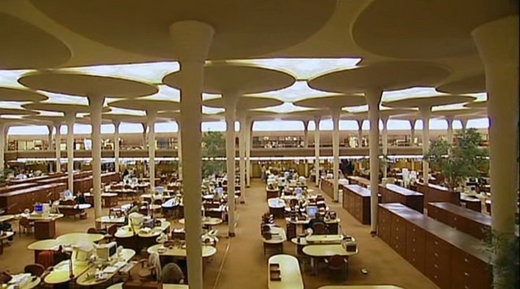 The columned 'great workroom' is one of Wright's most astonishing spaces, surrounded by the light bands in the brick enclosing walls and opened by a series of tubular glass skylights that fill in between the curved tops of the column petals (columns); as Wright said, 'the effect is that of being among the pine trees, breathing fresh air and sunlight.
Apparently Wright, zany madman that he was, also designed the desks that you can kinda see in the pic above of the Great Workroom, and those are still in use today as well. Even the attached car park sports a similar mushroom-topped design. When you've got a theme that works, I say run with it..
Little aside here, if you'll bear with me: regular readers of this site know that I'm fanatical about my Sixties architecture, and it could be technically argued that highlighting a F.L Wright building is incongruous with previous volumes, and I would partially agree. But one of the main reasons that I like the Johnson Wax building is because it resembles something from the Sixties, which is actually when I thought it was constructed when I first saw pictures of it. Plus, my view on Wright is a wee bit unconventional — I don't want to say he's overrated, as I really do like his work (e.g, the Turkel house, the Ennis-Brown house, Fallingwater), but there are many other ace architects out there that don't get nearly half as much attention as he does. Besides, my structural preferences tend to lean towards grey concrete, glass and steel, anyway..
Join us next time, where representatives from the Frank Lloyd Wright Estate kidnap me, and have me publically flensed