typed for your pleasure on 10 January 2005, at 1.52 am
---
I only have five episodes left for Zeta Gundam. Damn, that show's messed up. Now, I already knew that one of the distinguishing features of that show is that a lot of characters die, but I had no idea that a certain character (who shall remain nameless) buys it during a particular episode. I was actually shocked, cos I'd read the episode synopses years ago, back when anime was first getting a foothold on domestic shores, and I'd either completely forgotten that _____ died, or just overlooked it entirely. Due to my 'reading ahead' I have a general idea of what happens at the end, but I don't know the particulars.. Odhinn bless you, Tomino, for being clinically depressed when directing that show. Wow.
Also, Shi-chan & I did our first photo shoot since, like, February of 2004! We're pretty satisfied with the results.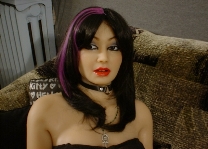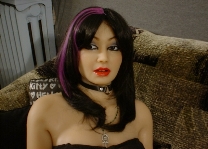 All that crap of me going on about 'logistics' worked out rather well! The backdrop camouflages the more repellent parts of the room decor, and between the ceiling light and the two 'klieg' lights (actually two clamp-on shop lamps), there's more than enough light. We prefer natural light, but that's just gonna have to wait until we move. In the meantime, not bad!
Don't hold me to it, but I'm hoping to have them posted to 'Kitten with a Whip!' in the next week or so. I've got to sort thru 130 photos, which means I have to select thirty. Hrrm. But it was definitely fun getting back into the photo-taking vibe. Back in the saddle! Or something?