typed for your pleasure on 3 May 2008, at 12.40 pm
---
Sdtrk: 'Day out' by Daisies
You don't need a calendar anymore! Phoenix Studios would like to point out that it's now May. Ladies and gentlemen, start your credit cards! Or your overactive fantasies, one or the other.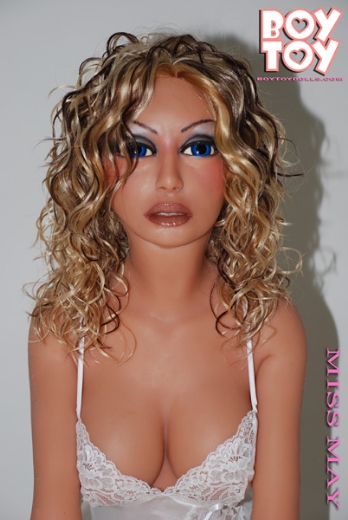 insert obvious 'My, what big… eyes… you have' line here

Apart from maybe Cinco de Mayo, I've no idea what possible event Miss May could be celebrating, apart from the Joy of Living. Well, whatever it is, she's doing a remarkable job. Miss April's still may favourite so far, though…
Next up: not just one, but two alert readers — Maisie Sedgwick Deely, who's tipped me off before, as well as the lovely Rayschro aka Princessrachel — have clued me into a rather enticing new exhibit opening up at the bitforms gallery in New York City: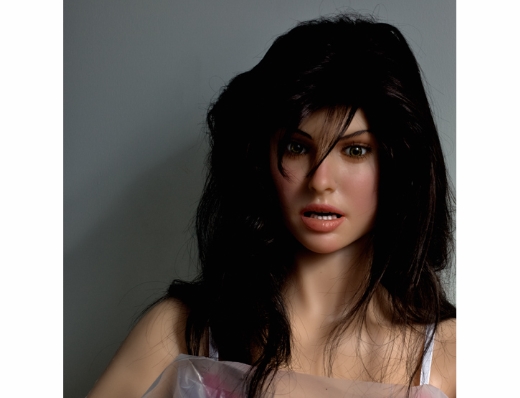 Ahh, the 'GAH ALRIGHT ALREADY I'M AWAKE' look
Lynn Hershman Leeson returns to bitforms gallery in NY with the first showing of a new series, Found Objects, April 26 – May 31.

Including the premiere of the sex doll installation, "Olympia: Fictive Projections and the Myth of the Real Woman," a provocative and updated version of Edouard Manet's notorious painting, "Olympia".

February 2008, New York, NY – San Francisco-based artist and filmmaker Lynn Hershman Leeson returns to bitforms gallery in New York for a new solo exhibition, Found Objects, running April 26-May 31. With a body of work that spans over 35 years and ranges from early conceptual and performance pieces to artificial intelligence robotic works and films, Hershman Leeson is one of the most influential artists working in new media today. Updating the notion of "readymade" introduced by Marcel Duchamp, Found Objects is a new series that features assembly-line produced female sex dolls to examine issues of projected fantasies and the mythology of artificial women. With the installation, "Olympia: Fictive Projections and the Myth of the Real Woman," Hershman Leeson restages Edouard Manet's "Olympia," projecting images of the painting on a doll to offer a provocative, updated version of the notorious artwork. Also on display are several digital prints in which the dolls appear to be emotionally involved in their predestined situations.
taken from this site
In looking over her website, it appears that over the years, she's done some interesting work with Mannequins and window displays, as well assembling quite a few installation pieces that involve either surveillance cameras, or artificial intelligence programmes. Huh! Might have to keep an eye on her, no pun intended…
So who wants to fly me and the Missus out to New Yawk for this? I mean, how else would we give the show a proper assessment and review? Don't all volunteer at once, now.
As an aside, last night, my friend Mari mentioned that since she sees so many pictures of Synthetik women whenever she's round Deafening silence Plus, she's more or less conditioned to the point where, if she sees a somewhat blurry or otherwise unclear photo of a lass in her day to day affairs, she thinks it's a Doll until proven otherwise. That's… that's pretty fantastic.
Finally, I found what may be the best review for 'Lars and the Real Girl' in existence. If you're spoiler-averse, stay away from it, but gods, it's a riot, as it's written by someone carelessly wielding Babelfish, or perhaps a student of the book 'English as She is Spoke'.
Gosling stars as Lars, a quiet, anomaly teen Negro in a far Midwestern municipality who lives in his brother Gus' (Paul Schneider) garage and avoids some ethnic interaction whatsoever, including unsure advances from his tall co-worker Margot (Kelli Garner). For a patch we're not rattling trusty what's up with Lars—is he depressed? sociopathic?—but every the customary bets are soured when Bianca arrives at his door. Bianca is a Real Girl, a life-size stimulate chick sequential soured the Internet. Lars gets the intent from his ruttish co-worker, but when Bianca arrives it's country he's not into her for her anatomically precise parts—Lars has institute love.
O, the unintentional humour, it kills me again and again
Technorati tags: Phoenix Studios, Boy Toy Dolls, bitforms gallery, Lynn Hershman Leeson, Found Objects, Lars and the Real Girl, English as She is Spoke