typed for your pleasure on 2 January 2008, at 2.17 am
---
Sdtrk: 'A stairway to the stars' by The caretaker
Anyone who's ever been on an airplane owned by an American airline in the past couple of decades has more than likely flipped merrily through a SkyMall catalogue. Taking consumer excess to zany new extremes, the SkyMall selection consists of overpriced rubbish, designed for ostensible convenience, aimed at people with more money than sense. Things like motorised illuminated tie racks, or a Murphy bed for dogs, or garden sculptures shaped like a yeti, or nearly anything with the word 'executive' appended to the front of the title. You think I'm joking?
Recently, my pal Zip Gun came back from a flight with a copy of a recent catalogue, with a page dog-eared just for me: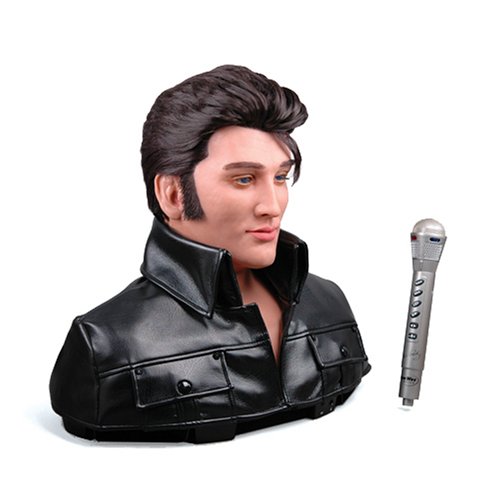 A hunka hunka burning silicone
"Alive Elvis" animatronic robot moves, talks and sings just like "The King" in his "'68 Comeback Special"!

Elvis Presley–the biggest-selling and most charismatic solo artist in music history–is captured here in all his heartbreaking glory, just as he looked on television's legendary "Elvis '68 Comeback Special."

"Alive Elvis" is a lifelike and life-size bust of Elvis Presley. State-of-the-art technologies–multiple infrared vision sensors, stereo speakers, 10 precision motors with motion-capture facial animations, and 21st century materials–have been used by Wowwee to lovingly craft a robot that looks, feels, sounds and moves like a real person. Wowwee Alive Elvis is the first high-quality animatronic robot of any superstar ever designed for a fan's home or office.
taken from this page
That's right; clear out a special place in your home right now for 1/5th of an Android Elvis. The descriptions, both on the SkyMall page and the manufacturer's site, are kinda disappointing, as the SkyMall print catalogue gets a little sexy with the descriptive phrases — things like 'stroke his lifelike hair' and 'gaze into his baby blue eyes'; things of that nature. So I suppose if you 1) are a Technosexual, and 2) love Elvis beyond all reason, then this product is made specifically for you. Certainly I fall into the first category, but much like Nineties alt.pop group The Wonder Stuff, I've never loved Elvis. I don't even like him as a friend!
Which begs the question: How much money will I have to give WowWee for them to make an Alive™ France Gall? Come on, people, don't crush my pervy dreams
Technorati tags: SkyMall, Elvis Presley, robots, Androids, Technosexuals, WowWee, France Gall, yeti