typed for your pleasure on 23 December 2007, at 7.27 pm
---
Sdtrk: 'Winter in Canada' by Elisa Gabbai
Not one, but two fellow iDollators, Mahtek and PB Shelley, have simultaneously brought another noteworthy Doll manufacturer to my slavering attention: Phoenix studios. Absolutely lovely.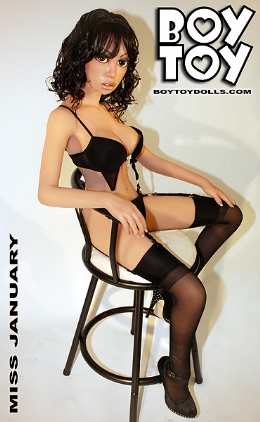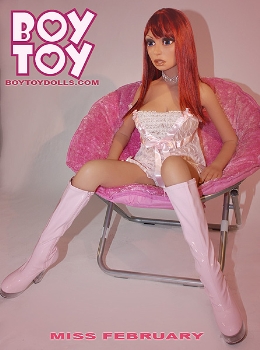 Left, Miss January 2008; right, Miss February 2008
Hand crafted by the creator of RealDoll, through a new sister company of Abyss Creations, Phoenix Studios, these dolls will only be available as limited editions. Each Boy Toy is named after a month, and the quantity of each doll that will be made will be equal to the number of days in that month. There will only be 31 Miss December dolls, 31 Miss January, etc. These are extremely limited quantities, and each doll will be hand detailed by Matt McMullen and include a signed and numbered certificate of authenticity.
So when Matt wasn't rocking out with his rock band of rock, Nick Black, he was developing these Dolls in secret. Very clever, Mr McMullen, very clevair. Seems that he's taken various developmental aspects of RealDolls and refined them (highly tear- and stain-resistant silicone, lighter weight displacement) for use in the Boy Toy Dolls. Our hope is, of course, that those developments are implemented with RealDolls in the near future.
As you'll note, they're definitely aiming for the collector's demographic, what with the limited edition quality of their lasses. And you know there's gonna be someone who gets one Doll for every month. Prof.Sakai, I'm looking in your direction…
Also, I ran across this rather nice piece of fiction called 'I, Real Doll' on Everything2.com:
I am alive, if you only knew it. To your eyes, your senses, I am nothing more than a simulacrum of a woman made up of silicone, rubber and steel. You must position me to strike a pose, paint me with makeup, dress me with your ex-girlfriend or ex-wife's clothing. You care for me in your little ways and ensure my safety, take me out for trips on the boat or in the car as though I were perfectly real. Over time you came to regard me as your ideal fantasy: a woman you can get physical pleasure from without having emotional baggage to deal with. I don't talk. I don't move. I don't leave when you're in a grouchy mood. I just sit in the corner or in the closet and wait… for you, my owner, my master. I am the ultimate submissive, entirely dependent upon you.
Rare as it is to see online writings that don't demonise Dolls and Doll culture, it's rarer still to see a favourable work of fiction, and rarer still to read one from the viewpoint of the Synthetik. NightShadow, you get four Thumbs Up from myself and the Missus!
Happy 23rd, peoples! Hope your holidays are a Gift Explosion!
Technorati tags: Abyss Creations, RealDolls, Phoenix Studios, Boy Toy Dolls, iDollators