typed for your pleasure on 14 February 2014, at 8.25 pm
---
Sdtrk: 'Keepers of the dawn (Who loves the sun?)' by Tropical popsicle
St Valentine's Day, of course, is a holiday made popular by the very first gangster massacre back in 1929, when Al Capone had a buncha mooks lined up against the wall and ventilated, see. As many of the victims' hearts were pierced by bullets, current generations memorialise this event by exchanging hearts to loved ones. How does Cupid enter into the equation, you ask? Much as how Christians appropriated the Easter egg from Pagans, so it was with celebrating St Valentine's Massacre; Cupid originally symbolised a flying baby. It's true.
Quite a few of the people I began following on Twitter were people I knew on MySpace. Remember MySpace? Okay, you can stop now. One of them, Hayley Heartbreak, is a Gothabilly lass from New Zealand who does pretty nifty illustrations in her spare time. Last year, she began doodling Valentine's Day illos on Post-It notes for a set number of people who asked for one, and I managed to catch her this year. This is the fantastic result: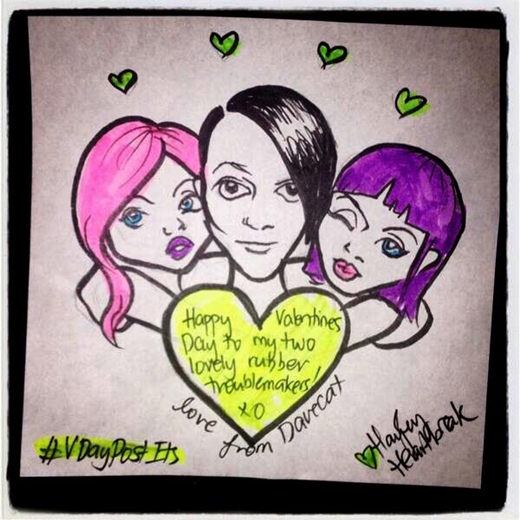 The Missus, our mistress, and I think it's too damned cute. Thanks, Hayley!