typed for your pleasure on 20 May 2007, at 1.42 am
---
Sdtrk: 'Fluorescent grey' by Deerhunter
Not having paid any previous attention to the Japanese Doll company make pure, as their models hold no appeal for me, I was pleasantly surprised when I learned of their brand-new Synthetik companion, Deep ~L~. Very pleasantly surprised. Wow.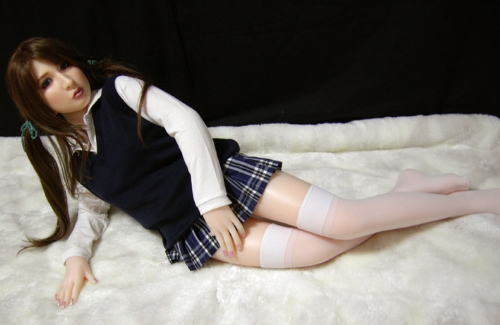 N.B.: not actually enrolled in classes
Babelfish comes to the rescue (or as Babelfish itself would say, 'Babelfish comes for the rescue') with this translation of the newspost that tipped me off to Deep ~L~:
Adult doll Deep~L~. compact with the height 130cm, having got big breasts, and complete & figure and atmosphere, too the homepage of make pure. It drank and the page joined. 「The maximum feature is a groin part. The device that not is before though it is a hall type is given. 」 To our regret, the details are being controlled voluntarily.
'It drank and the page joined'. Noted!
Granted, make pure's new lass is flat-out luscious, no question, but there's something familiar about her appearance. I couldn't put my finger on it, until I visited 4chan's Sexy beautiful women sub-board, and it hit me like a ton of silicone bricks after seeing a certain thread — they've gone and made half-Filipino half-French model and unstoppable sexbomb Leah Dizon. A grand choice!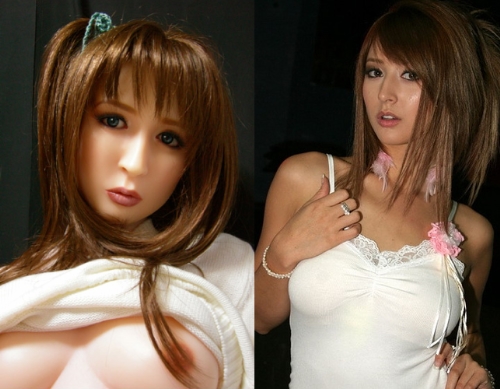 Left, Leah; right, Deep ~L~
You can now have your very own Leah Dizon. This, then, is proof that we are truly living in the Golden Age! One wonders if she's aware of this, though. If not, you'd be well advised to get your orders in for the Dolls as soon as they announce it before she activates her lawyers
Technorati tags: Leah Dizon