typed for your pleasure on 19 December 2006, at 12.04 pm
---
Sdtrk: 'Zelzah' by Medicine
Jeff/Zip Gun sent me this intriguing article yesterday. Normally, I'm against vandalism, but I'm behind this 100%. That's one hundred one per cents!
Town's Garfield statue decapitated 2 months after installation
Chicago Sun-Times | December 18, 2006

MARION, Ind. — Police say someone stole the fiberglass head of a Garfield statue located near downtown's Riverwalk.

''I've got to believe that whoever did this is probably going to be bragging about this at some point,'' said Marion Deputy Chief Cliff Sessoms.

The statue is now a headless figure dressed in workout gear and giving the OK sign. Police are investigating, but said Friday they don't have any leads yet.

Belinda Hussong, the city's parks and recreation director, said she was disgusted to hear about the vandalism to the statue, which was unveiled in October.

''You put so much energy and effort into a community project, then this happened,'' she said.

Marion is in the home county of Jim Davis, the fat cat cartoon's creator.

The statue was put along the Riverwalk to promote exercise, wellness and riverfront activities.

''We had a lot of generous sponsors to the statue and I feel like we should replace it,'' Hussong said.
Good to see I'm not the only person out there who reaches for their gun when they hear the name Garfield™®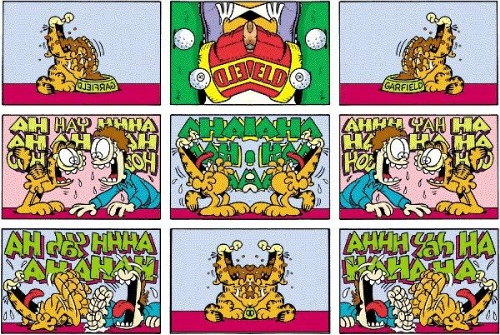 Clearly, the best Garfield™® strip Jim Davis never made