typed for your pleasure on 18 March 2006, at 11.47 am
---
Sdtrk: 'Scheisse' by the Seconds
We here at 'Shouting etc etc' — and when I say 'we', I mean, myself and Sidore-chan, and when I say 'myself and Sidore-chan', I mean 'myself', cos she won't write for this bloody thing.
Where was I? O yeah. We here at 'Shouting etc etc' don't really have any hard and fast rules for building selections for the critically-acclaimed 'This was the Future' series — basically, it should be from the mid-to-late Fiftes up to the mid-Seventies, or it should look like it's from that time period, and it has to be interesting. Having said that, I'm not a big fan of saucer-shaped structures. With the exceptions of the Chemosphere and the Futuro House (review pending), I just don't really like them, as I think they're kinda forced and cliched. 'IN TEH FUTURE, OUR HOMES WILL BE SHAPED IN THE STYLE OF THE SAUCERS THAT WE WILL USE TO TRAVEL TO THE STAAAAARRS!!1!' I always thought using that particular shape for a building was a little dumb. Perhaps it's the lack of corners that bothers me, I dunno. But recently I happened upon a structure I'd never heard of before: the Evoluon in Eindhoven, The Netherlands.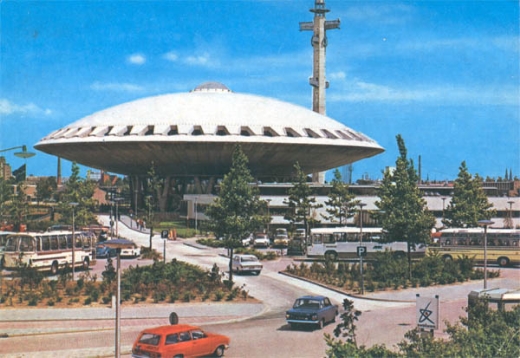 To celebrate the 75th birthday of the Philips company in Eindhoven in 1966, a special exhibit on science and technology was opened in the Evoluon, a futuristic building designed by L. Ch. Kalff. [..] The exhibition was designed by the British designer James Gardner. It was not a display of Philips products, but a museum with a message. Shown was how mechanisation and automating had increased production and made life more comfortable. You could see how modern society had its problems, from environmental pollution, depletion of natural resources to over population, but also how technology could offer solutions to these problems. Lots of science and its technical application could be seen.
Yes yes, it's an enormous saucer. But the interior.. my christ, the interior. That was the best thing about it! If you got Broadcast and Ghost box round to your office and hired them as interior designers, you'd end up with something a lot like the Evoluon. It was a science museum constructed in the Sixties, so naturally you had to have a lot of concrete hexagons, and chrome spheres, and perspex boxes, and metal 'sound sculptures' and things of that nature — it's a rule. See if I'm wrong.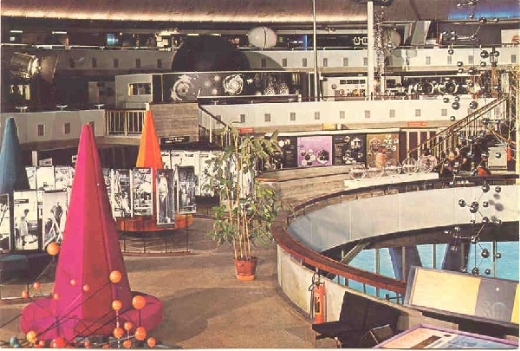 The museum also featured its own amateur radio station, a robot called the 'Senster' which reacted to sounds, an oversized Nixie clock that was used to display the number of visitors every day, and if you couldn't get a guide to assist you, you merely requested a 'Gidofoon', which was a cassette deck that played a tape which explained each exhibit. Brilliant.
The exhibition was closed in 1989 due to the declining amount of visitors; however, the Evoluon still stands today, as it has been repurposed as a business-oriented conference centre. Good to see that the building's still around, but without the Philips exhibit, it's definitely not the same..
Finally, you have to view the videos, also hosted on Kees' Evoluon Site (that's the good one, not the corporate one). Even the music's perfect!
So I guess the saucer-shape isn't too inappropriate, as it's transported me back to the Evoluon's heyday. Rather clever, indeed