typed for your pleasure on 20 January 2006, at 2.43 pm
---
Sdtrk: 'Too late' by New order
It's a linkdump! Rinkudampu dessho! You may now commence your furious right-clicking.
+ This is so cute it gave me cavities: Snake 'befriends' snack hamster. Cue Bill Murray from 'Ghostbusters', shouting 'Dogs and cats, living together..'
+ Transform your blog into a tree-killin' print book, through BlogBinders. Are you thinking what I'm thinking? Yeah, you're thinking this post alone wouldn't translate to print well, either? Yeah. Hrrm
+ Polish film posters have always brought bold new meaning to the term 'singularly unsettling'. (Although I'd proudly display the 'Rosemary's Baby' one on my wall..) A casual observer seeing these would almost get the impression that Poland is a land that has never known joy. Still, they're worth a look
+ A transcript of a radio interview from 2002 with Gaby Wood, the author of 'Edison's Eve', a fab book about the history of automata. The interview is like a Cliffs Notes version of the book, somewhat
+ I want this feckin' house so hard.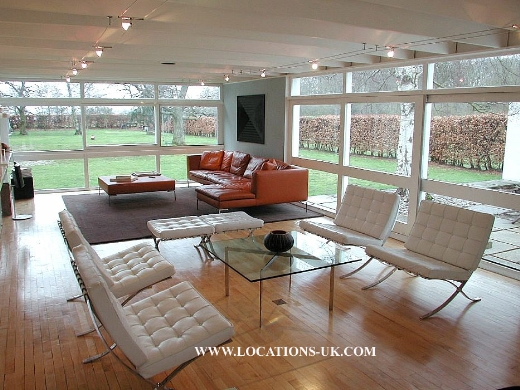 I would've written an instalment of 'This was the Future' around it, but there's practically no facts on it, save that apparently it's a house you can rent as a set if you're shooting a film. Well, if that's the case, then call me Kubrick
Most of these links, except for the snake / hamster one and the Gaby Wood interview, are courtesy of a lovely blog I've run across that's densely packed with links, called 'I like', which appeals to the esoteric in me, and quite frankly, is the worst timewaster since heroin.
And that appears to be it! Five consecutive days, five consecutive posts. I don't see that sort of confluence happening again anytime soon, so this is truly a Christmas Miracle