typed for your pleasure on 3 June 2005, at 4.49 pm
---
Sdtrk: 'The drowning man' by the Cure
Another ABS-moulded spotlight on another ace designer; this time it's Italian-born Joe Colombo.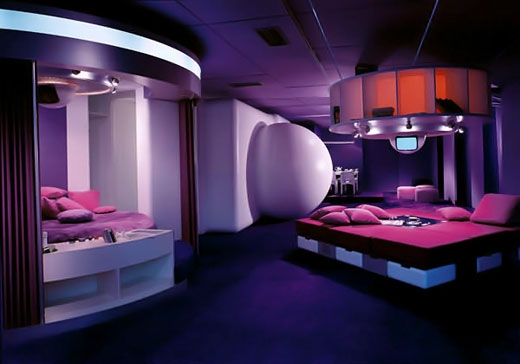 his 'Habitat of the Future' for Visiona 69
Joe Colombo's future was an anti-nostalgic future (he would not have recognised as "future" the '90s in which we live today), in which an intelligent technology would have helped every human activity, laying the foundations for completely new living models. At the time, Joe Colombo designed entire living cells.
quoted from this site
He's one of my favourites, as he was all about the Modular Living. With regards to his design for appliances, furniture, and living areas, he constructed spaces and things that could be well used and conveniently stored. Where's the saucepan? Where's the crockery? Ahhh, it's all nestled within each other in the Mini-kitchen's crockery drawer. A Colombo design meant that it promoted more efficient living, yet it was fun at the same time. This is a man who engineered a small glass that could be held with your thumb, while you hang onto your cigarette with the fingers of that same hand. (He loved smoking.) That's called Getting More Use Out Of A Single Hand!
And no, I've no idea what that giant white sphere in the picture is for exactly. In all the articles in print or online that I've read that cover the Visiona 69 environment, not a single one indicates what that sphere's for. Perhaps it contains pure, unfiltered Sixties! I dunno