typed for your pleasure on 15 February 2005, at 8.48 pm
---
Sdtrk: 'Choking on air' by the Ladybug Transistor
This selection is something I don't know if I'd want to live in, but I'd definitely love to see it. Tonight, we look at The Farnsworth House.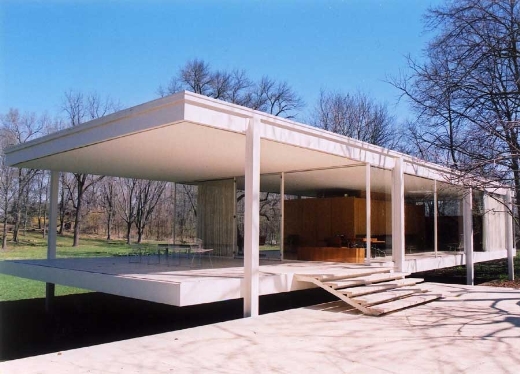 The one-room, steel-and-glass house designed by Ludwig Mies van der Rohe that has been called one of the most important works of 20th century architecture. Located in a beautiful meadow on the banks of the Fox River two miles south of Plano, the Farnsworth House has been called "sculptural" in its simplicity and a masterpiece of design. Mies' temple-like pavilion both invites and challenges visitors.
This would be one of those places that I'd seen a few times before in print, or some other media, but I never really paid genuine attention until I saw it on the front cover of The Aluminum group's 'Plano' Cd. Their choice of the Farnsworth House fit the music perfectly; very smooth, seamless, polished, light and airy. It's the exact sort of building you'd expect from a man who worked as the director of the Bauhaus school in Dessau. (ooh, the Bauhaus.. I'll have to cover that soon..)
It's a beautiful home, but I couldn't picture myself living there. You wake up in the morning, sluggishly making your way from the bedroom to the kitchen in your PJ bottoms, and you notice several woodland creatures observing you from the other side of the glass. A couple of bears have set up lawn chairs a few feet away, from which they sit comfortably, watching you as you nervously try to make your eggs benedict. A group of rabbits titter when you accidentally pour maple syrup onto your slippers for the second time. Who can live with that sort of scrutiny day after day??
Tours are available! Wear clean socks or stockings though, as I understand you have to take your shoes off before entering